Writer of the Week: Lydia Jones
---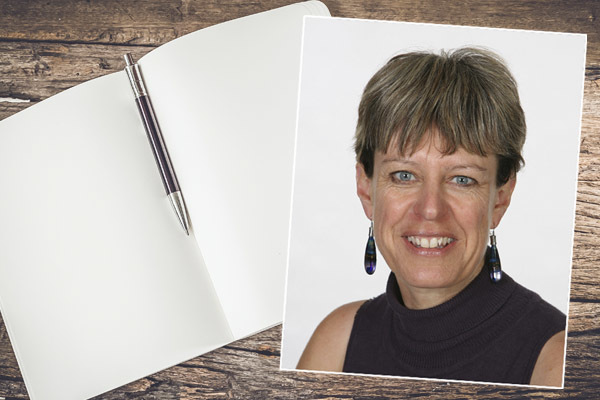 Lydia Jones's story Colour Me Happy opens this week's new issue, an interesting story about Clarice Cliff. I wanted to know more, so invited Lydia along as my Writer of the Week.
---
Your story isn't exactly about Clarice Cliff but she's a prominent character. Can you tell our readers a bit more about how the story came about and why you wanted to write it?
I'm fascinated by strong women who succeed against the odds – particularly in previous generations when social norms were more prescriptive: probably because I'm the granddaughter of a suffragette!
Clarice is an interesting woman. Deeply unconventional in both her professional and private life she fostered a close-knit team of workers: her "Bizarre Girls". I wanted to explore the effect such a charismatic character would have on a young Potteries lass of that era, so I created Esme.
What's your starting point when you write a short story?
Quite often it's a location and the characters are born out of it but in this case obviously it was the character of Clarice. I like to weave real characters and events from history into my stories and enjoy the research it entails.
Are you lucky enough to nail your ideas with a first draft, or do you write and rewrite?
No! Is anyone? I write first draft without stopping to revise it and then I leave the story "to cook" for a few days before going back to edit and rewrite.
Do you still harbour writing ambitions, or have you found your niche?
I'd like to publish my "Hen Bont" stories as a theme-linked anthology because many characters cross over from one story to another. I've also got a series of contemporary stories about positivity and how it transforms lives. I did publish an e-book series "For A Smile" a few years ago but I must admit I found the technology challenging and to convert into "proper" book format, as I would want to do, is even more complicated. I'm a big believer in "never say never" so we'll see.
Notebook and pencil or laptop? Kitchen table or study? Blank wall or inspiring view?
Notebook and pencil every time! My study area has a broad windowsill where I stand to write. It overlooks the garden and I try not to see all the jobs that need doing! Typing up then becomes part of the editing process.
And a PS: What's your one top tip for aspiring writers?
Write from the heart: dishonesty shows in every word – but structure it to the requirements of the market you're aiming for. Does that count as two tips??
If you'd like to be featured as a "Writer of the Week", the first step is being published in the "Friend" – use Shirley's Writing Tools to help you write that story!