Oaty Pancakes with Grapefruit
---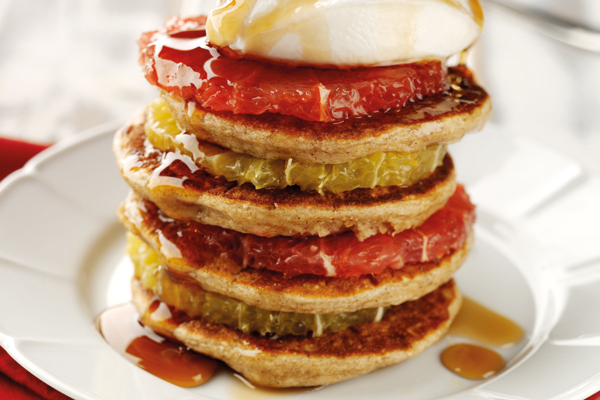 75 g (2¾ oz) porridge oats
½ tsp bicarbonate of soda
1 medium egg
½ tsp ground cinnamon, optional
75 ml (2½ fl oz) almond milk or skimmed milk
100 g (3½ oz) TOTAL 0% Greek yoghurt, plus extra to serve
1tsp coconut oil
1 ruby grapefruit
1 blood orange
To Serve : Agave nectar, Greek yoghurt
Recipe courtesy of uk.fage.eu.Recipe courtesy of uk.fage.eu.
For the health conscious among us, these oaty pancakes are perfect for breakfast!
If you keep an eye on your calorie intake, these Oaty Pancakes are the perfect choice for breakfast. They are quick to make, and much like protein pancakes which are a fitness food staple, have few ingredients.
I like to make these Oaty Pancakes for my children on a Saturday morning, they are a great mix of healthy breakfast and part treat.
If you are not a fan of porridge, then perhaps pancakes are a better way to get some oat fibre in your diet. The addition of fruit to the plate means you are getting one of your five-a-day too.
In a food processor or mini blender, whizz the oats to a fine powder. Mix with bicarbonate of soda, egg, cinnamon, milk and yoghurt until smooth.
Heat a little of the oil in a large frying-pan. Add heaped tablespoons of the batter about 4 cm (1 in) apart in the pan and cook for 1 to 2 minutes per side until deep golden. You should make about 8.
Meanwhile, peel and slice the fruit. Serve layered with the pancakes and top with a dollop of yoghurt and a drizzle of agave nectar.