Fiction Sneak Peek: September 15, 2018 issue
---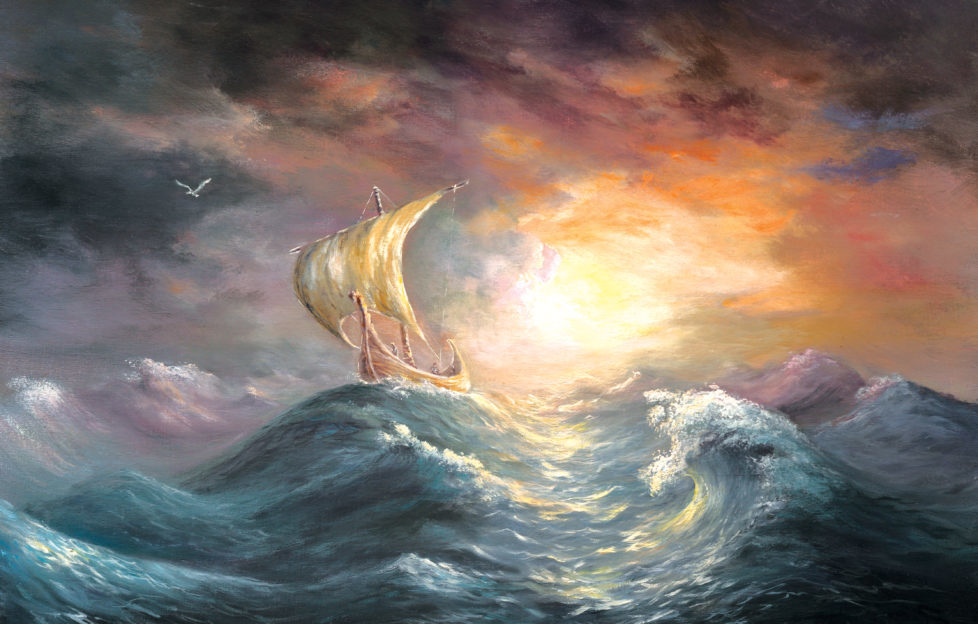 Illustration: iStock
This is one of the most dramatic fiction illustrations we've ever published. And aren't you intrigued about the story itself? That Viking ship…. On Stormy Seas is a modern tale by Valerie Bowes, and a very satisfying read.
Valerie's our Writer of the Week, where Tracey talks to her about this particular story and writing in general.
A Work Of Art by Wendy Clarke is about Julia. She's an artist of some repute. But her painting style is changing. Why?The iIlustration for this fascinating story is by Kirk Houston.
Do you remember when we all had wee transistor radios glued to our ears as we listened to our favourite DJs playing all the latest records? Lilian remembers those days, too, in Home For Good by Lesley-Anne Johnston. Illustration by Martin Baines.
A clematis and its resilience is a lovely metaphor for Marie's aunt and uncle in Still Going Strong by Alison Carter.
A period story next, set in the 19th century. It's The Poet's Daughter by Patricia Belford. Hannah cares for all her pupils, but it's hard not to have a soft spot sometimes. Illustration: Helen Welsh.
In Always Read The Label by Jacqui Cooper, metaphor is employed again, as Tina realises her daughters are like garments. They all need different handling, don't they? This one has a cute illustration by our own Sarah Holliday.
A defiant cat stars in A Head For Heights by Penelope Alexander. You'll know what I mean when you see the illustration by Kirk Houston.
So that's this week's short stories. But there's more!
Series
We've got a no-show at rehearsal time in Busy Bees by Della Galton.
It's stag night and hen night in Riverside, our compelling weekly soap by Glenda Young. What can possibly go wrong?
Serials
A new serial starts this week: The Primrose Line by Petrika North. It centres on a heritage railway, but Petrika's stories always have family at the heart of them, and this is no different. You'll soon be enthralled. Illustration by Gerard fay.
As one serial begins, we reach the final visit to The Girl From Amherst Island by Katharine Swartz. And it really is final – this is the third story in her compelling Amherst Island trilogy. It's taken Ellen a long time to realise what she really wants…. Illustration: Mandy Dixon.