When is a Holiday not a Holiday?
---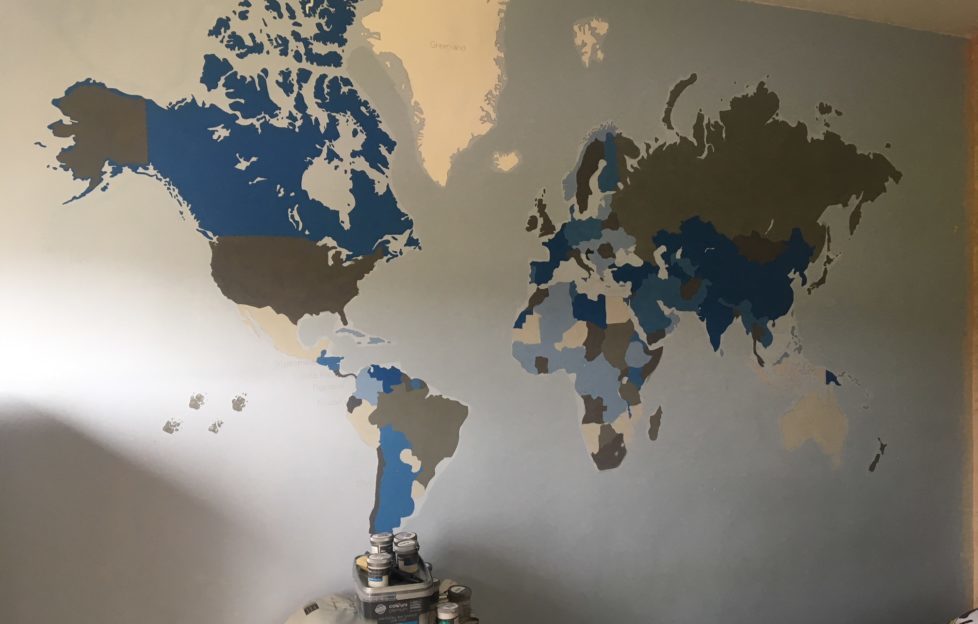 Last week I took annual leave to finish off the odd jobs around the house before winter arrives.
Winter isn't really a time for home repairs, no, you want to be able to cosy up on those cold evenings, sherry in hand. Our street has been busy with neighbours preparing their homes for the winter months. There's been fixing fences, painting pelmets, plastering walls and mowing lawns.
Even I took some annual leave so I could paint our home, and 'finish' off rooms. Ahh, the endless task of finishing off rooms…
We inherited a large painted map of the world in one bedroom from previous owners. It's a beauty, lots of time and attention went into it, only now it doesn't fit the new inhabitants colour scheme. In a painstaking project, my daughter is painting it grey from blue. We've had fun at paint shops selecting all different kinds of greys, who knew there were so many?
But painting rooms, is just one of the jobs we do before battering down the hatches for winter, do you check off any of these? The people at Promotional Codes put together a list of 12 chores.
"The evenings are already getting noticeably darker and with autumn officially arriving on September 21st and the clocks going back on Sunday 28th October, people will soon be driving home in the dark, so it's important to be happy with the house you are coming home to every evening"
Cut the lawn
Last thing you want to see is a slightly too tall, overgrown shabby lawn every time you look out the back door. Once it's grown to a sufficient length give it one last cut. It may need to trimmed again but not as regularly as summer. This should keep it looking smart for longer.
Clean the oven
If you're in for the duration of the night it's good to give the oven a clean. There are plenty of household oven products that simplify this process and allow the grills to soak and the inside to get a good powerful scrub so check in at your local supermarket and see what's on offer.
Deep clean the house
Like a good spring clean, but in autumn – make sure no corner is left untouched. Get all the cobwebs, wipe all the skirting boards and do all the cupboards. You'll thank yourself when you have a gleaming house.
Clean the fireplace
Why not clean the fireplace before you start using it again? Line the area with newspaper and remove all loose ashes and dust with a shovel and a broom. Use a wire brush to clean off the soot from the brick and then use baking soda and warm water on a sponge to clean the remaining soot and dust off.
Make your own autumn potpourri
Make a homemade autumn potpourri with oranges, juniper berries, cinnamon, vanilla and rosehip. There are so many simple recipes on the internet for this and when placed in a bowl the potpourri will make an excellent table piece or ornament with a lovely long-lasting scent.
Get rid of it 
The old clothes that you've been hoarding and the food that is just not getting eaten can be gotten rid of. Take in date unwanted food to food banks so it can go to people in need, and unsoiled, unwanted clothes in a good condition can be taken to clothes banks located in supermarket car parks.
Candles
Candles can really set the atmosphere for a relaxing night in and with an array of scented, long-lasting candles out there, there's one for every mood.
Cushions and throws
Add new snuggly cushions and throws to your sofa and bed to make the evenings cosy. Curling up under a throw is also a great way to keep warm if you want to try and leave the heating off for as long as possible and save yourself some money.
New bedspread
It's good to switch things up occasionally and a brand-new bed spread can completely change the look of your room and will perk you up if you're tired of seeing and climbing into the same boring sheets every night.
New curtains
Changing curtains is also a great way to change the look of a room, it can also insulate it if you buy thicker curtains or blinds during the autumn season and will prep the house for better heat insulation as autumn turns to winter.
Lick of paint
Give a tired looking room a lick of paint to brighten it up, if you'll be spending more time in doors it'll please you to see it look so much better and even a touch of paint can give a wall a whole new face lift.
Find something to watch
Get hooked on a good TV show, snuggling up with your loved ones under a throw on the sofa is a great way to spend autumn evenings.
Darren Williams of Promotional Codes.org.uk said: "In the summer months, we're off on our holidays and spend much more time outside enjoying the glorious weather, so it's no surprise when our homes just aren't as much of a priority and certain jobs are be left undone or unfinished until the autumn."
"We've come up with a handy set of home hacks to help you make your home a place you want to be this autumn so follow these and despite the cold and dark outside, you'll have a reason to smile when you walk through the door to your home."
Make winter perfect for you with a subscription, we deliver around the world too, so overseas readers can sign up too!