Fiction Sneak Peek: Oct 6, 2018 issue
---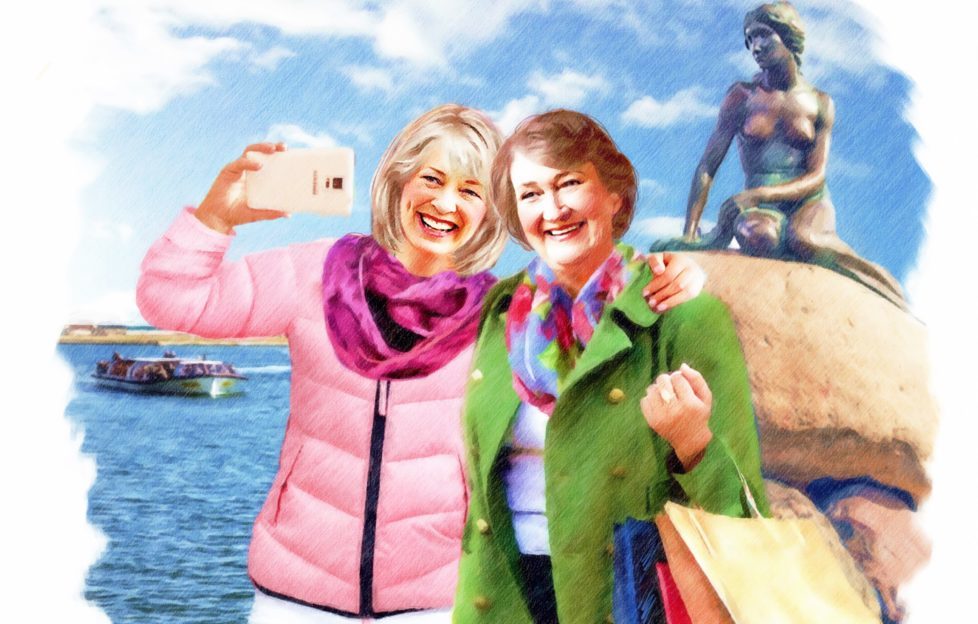 Illustration: Ruth Blair
Ah, wonderful Copenhagen. Have you ever been? And seen the iconic Little Mermaid. Little being the operative word….Eirin Thompson's lovely ladies Maureen and Jean have a new hobby, and it pays dividends with a Danish break. A Winning Combination is illustrated by Ruth Blair.
But the issue opens with a Val Bonsall crime caper starring Glyn and Chrissie. And how's this for a coincidence? What's Denmark famous for? Bacon. And what's their mystery called? This Little Piggy. Ha! Illustrated by Philip Crabb.
Joyce Begg doesn't write nearly as many stories for us as I'd like, but here's one: The Cottage On The Hill. It's about a cottage, on a hill….and it's a dream home. But who might live there?
Hobbies are funny, aren't they? So often passing fancies. At least, that's what Wilma's hoping about her husband's latest… Bob's Budgies is by Lesley-Anne Johnston, illustrated by Helen Welsh.
A lost dog, its adoptive home, and the man who claims her are in sharp focus in Looking After Lucy by Pauline Bradbury, illustrated by Philip Crabb.
A sad and lonely wee boy finds comfort in The Brightest Star by Hilary Spiers. And Hilary's my Writer of the Week to talk about crafting this story, her novels, and other writing matters.
Not In The Guidebook by Teresa Ashby opens with Megan dreading visitors – but why? Illustrated by Helen Welsh.
Series
It's confession time in Busy Bees by Della Galton – but who and what?
And in Riverside Sam's springing a surprise – but again, what and on whom? You can't miss the latest in our weekly soap by Glenda Young.
Serials
In The Mystery Of Macgregor's Cove by June Davies, Kit has a dilemma: should he confront Sandy about what he knows? There's one person he trusts to guide him. Illustrated by Ruth Blair.
The Primrose Line by Petrika North has been hit by vandals. But who would do that? Illustrated by Gerard Fay.