Speedy Pea And Mint Soup
---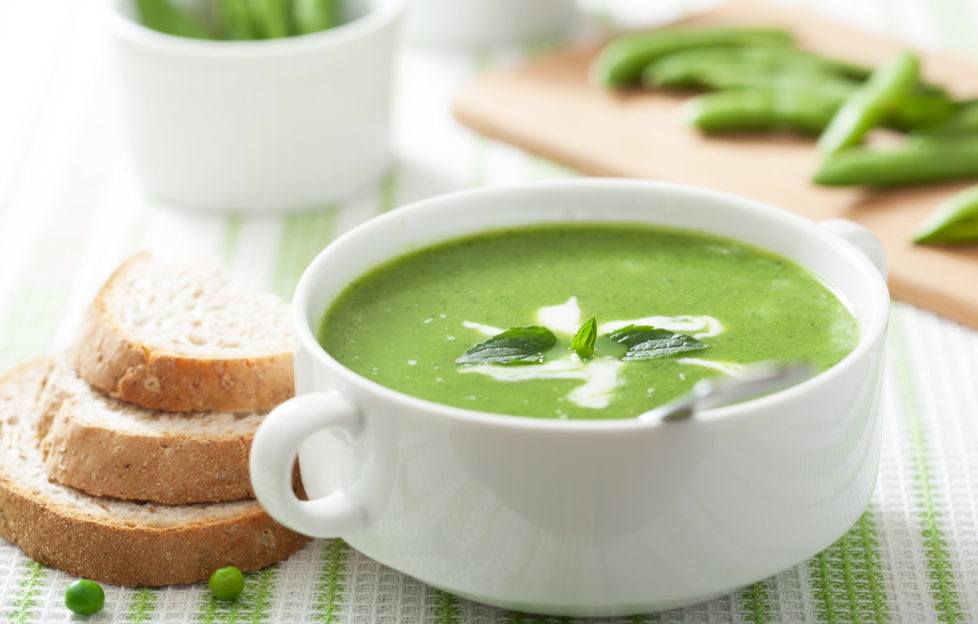 Ingredients
1 big onion
A glass measuring jug (1 pint) full of frozen peas
400 ml vegetable or chicken stock
Handful of chopped mint leaves
1 tbs cream cheese. Plain is good, a garlic/herb flavoured one is even better.
After having her wisdom teeth extracted, my wife was given strict instructions to stick to soup and soft foods for a couple of days.
All but one of the soups I know takes ages to make, simmering everything together to meld the flavours. My favourite, an enormous minestrone, actually takes longer than preparing a roast dinner. This soup is that one exception.
In less than 20 minutes, it's ready, and because the peas are so fresh it actually benefits from the bare minimum of cooking. Anything more and it would go all khaki and unpleasant.
Chop the onion and soften in oil or butter, or a bit of both.
Once a little softer, add the peas and stir.
Straight after, add the stock. Bring it up to the boil.
Turn off the heat, chuck in the mint and the cream cheese and whiz to desired consistency with a stick blender. Keep taking it out and tapping off the mint, it usually gets stuck in clumps around the blade.
Season and serve! Definitely taste before adding salt – the stock usually adds enough.