Sweetheart Semi-freddo Lime, Coconut & Avocado Cheesecakes
---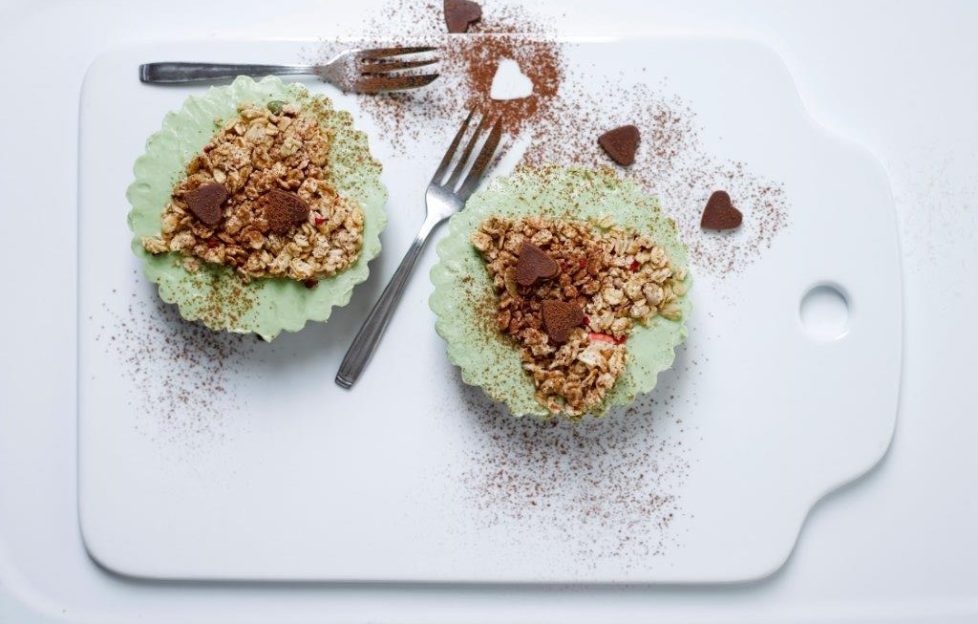 50 g (2 oz) coconut oil
4 Medjool dates, pitted
25 g (1 oz) unblanched almonds
75 g (3 oz) White's Apple, Cranberry and Raspberry Granola
50 g (2 oz) White's Organic Jumbo Oats
1 tbs raw cacao powder
4 ripe avocados
1 lime - finely grated rind and juice
2-3 tbs agave nectar
100 g (3½ oz) cream cheese
To Decorate: dark chocolate hearts; cocoa powder.
Recipe and image courtesy of White's Oats.
Method
Line the base of 4 x 10 cm (4 in) fluted tart tins, 3 cm (1/4 in) deep, with baking parchment.
Melt the coconut oil in a small saucepan. Pour half the coconut oil into a food processor. Add the dates, almonds, oats and cacao powder, and whizz to a coarse paste. Divide between the tart tins and press down evenly with the back of a spoon. Chill until ready to use.
Halve the avocados and discard the stone. Place the avocado flesh, remaining coconut oil, lime rind and juice, agave nectar and cream cheese into a food processor and whizz to a smooth paste. Divide between the tart tins and level the surface. Freeze for 2 hours until firm enough to turn out. Turn on to serving plates.
To decorate, scatter over the granola. Alternatively, place a shaped cookie cutter (we used a heart shape) on top of the cheesecake and sprinkle the granola in the cutter. Carefully remove the cutter leaving the granola decoration in place. Decorate with dark chocolate hearts. Dust with cocoa powder to serve.