What The "Friend" Means To You
---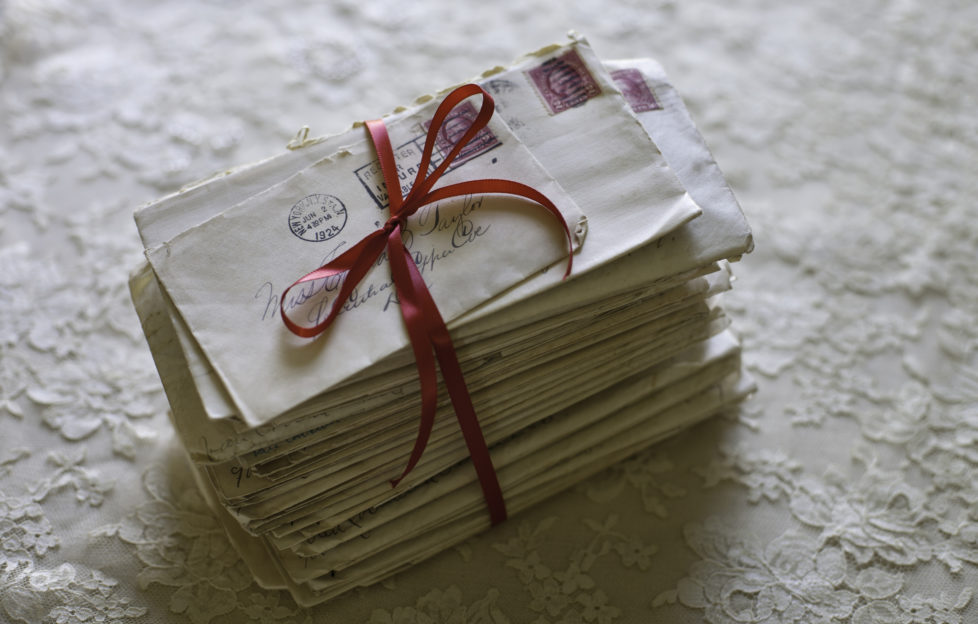 Stack of old letters tied in red ribbon
Here in the office, we love to hear just what the "Friend" means to you.
So please do keep your letters coming — they really make our day!
---
Mother's "Friend" Connection
Many congratulations on 150 years of "The People's Friend". This is a significant publication to me as, though I was not a regular reader, my family history is intertwined with you. My late mother, who sadly died in 1988, was a regular contributor to the magazine. Her name was Mary Cummins and I think she also wrote under the names of Jean Melville and Alice Mackie.

She always held the magazine and all at DC Thomson in the highest regard. In addition to her work for you, she also published fifty romantic novels with Mills and Boon and Robert Hale.

I felt I had to share my mother's connection with you on such a significant occasion.

Mr G.C., Dornock.
---
"With Me Every Step Of The Way"
I am so enjoying reading the articles and reminiscences around the 150th anniversary of "The People's Friend". They have reminded me just what a friend the "Friend" has been to me over the years!

I first came across the magazine in the 1970's when I was in my twenties. Then, in 1979, I married and went to live in Germany with my soldier husband, and continued to enjoy reading it there.

Back in England I tried other magazines but was soon collecting "The People's Friend" every week.  And when the children came along I read the children's page to them. In 1992 we all went to live in the Falkland Islands for a year. And once again, Mum came up trumps and the "Friend", along with comics for the children, would arrive weekly. How disappointed we were when bad weather meant the plane couldn't land!

Now, here I am married almost 40 years, with two small grandchildren. And hoping that "The People's Friend" will be a friend for many more years to come!

Mrs E.P., Leverington.
---
"My Pre-bedtime Treat"
My relationship with "The People's Friend" goes back to the 1960s. Every Thursday my mother helped her dear friend who worked full-time (still unusual in those days) with her housework. In school holidays I would tag along, too. After cleaning "auntie's" huge collection of brasses, I was expected to entertain myself.

I soon discovered the huge stacks of magazines under auntie's bed. "The People's Friend", were all stored in chronological order so that she could follow the serials before going to sleep. I loved dipping in and out of the magazines. "Between Friends" was a favourite back then, and I still enjoy it today.

Fast forward to the 1970s and 80s and my mum and I were regular readers. My brother used to tease me about my fondness for the fiction, which he claimed always featured a handsome, square-jawed vet called Gavin.

For the past 10 years we've lived out here in Italy, so nowadays I'm a subscriber. Postal deliveries from the UK can be a little erratic, so now it's my husband who teases me as I wait anxiously for the post-lady during periods of issue "drought" and then get excited when two or three arrive at the same time.

Now I'm the one following the serials before going to sleep, as my pre-bedtime treat is to relax for half an hour with a copy of "The People's Friend".

Mrs A.A., Italy.
---
"Connects People Around The World"
I would like to share what the "Friend" means to me at this special time, as it connects many members of my family.

In 1994, I first began to read your magazine when my mother-in-law, Moreen, passed a copy on to me with the words: "I hope you enjoy this, it's not like some of those other magazines!"

I thoroughly enjoyed reading it each week from then on and we often chatted about the infinite variety of features we found interesting. As animal lovers, these included Polly Pullar's beautiful nature writing, as well as the vast array of stories and other readers' letters.

Health tips were shared and ideas for meals were tried from your recipe pages. My son enjoyed reading the Children's Page when he was younger and we made a scrapbook of the stories for bedtime, which he then passed on to his younger cousins.

I am always impressed with the sheer variety of articles, stories and travel features which transport me to intriguing places both near and far, some of which are on my bucket list!

So, I would like to say thank you for such a wonderful, interesting and valued magazine which is quite unique as it truly connects people around the world.

Congratulations to you all on this fantastic milestone and all good wishes for the future.

Mrs L.H., UK.
Click here for more wonderful words from our readers.