Meet The Team: Subscriptions
---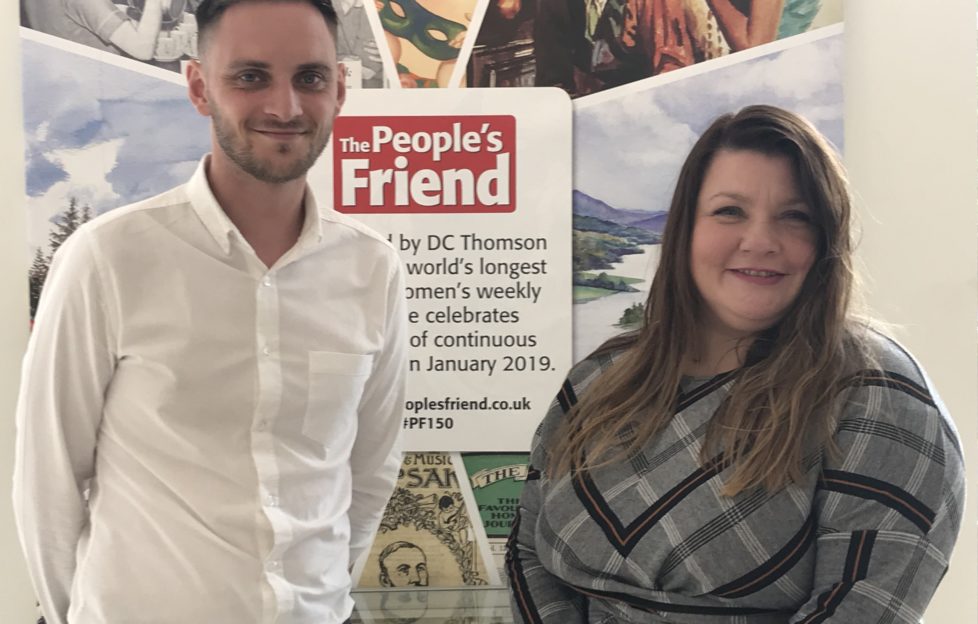 We're back behind the scenes of the "Friend" again, this time sitting down for a nice chat with our Subscriptions team, Pamela McLaren and Paul Milne.
How long have you worked supporting "The People's Friend"?
Pamela: I started working at DC Thomson in 2008, so eleven years – with a year maternity leave in there, too.
Paul: I've been working here for almost five years.
Tell us about your role with the "Friend" team
We are responsible for creating and running campaigns to increase subscriptions to "The People's Friend". Working with partners – like retailers, for example, or national bodies like English Heritage – we come up with incentives, price promotions and offers, and coordinate everything to make sure subscribing to the magazine is as easy and care-free as possible.
There's a lot of work in this! We need to make sure that we always have new and enticing offers, and that we examine new promotional channels for attracting subscribers, or for persuading current readers to subscribe.
When is the busiest period for you?
Definitely Christmas. We work to make sure everyone who wants the "Friend" under their tree (and in their postbox every week afterwards!) gets just that.
The planning for Christmas activity starts in the summer, as there's a lot to think about!
We have also been doing a lot around the "Friend's" 150th anniversary.
Any other "Friend" connections
Paul: One of my cousins actually bought a house that previously belonged to a "Friend" cover artist!
Do you have any contact with "Friend" readers?
We manage subscription renewals, and the communications that go out to our subscribers – including welcome emails, and the reminders sent when a particular subscription period is coming to an end.
We're always tweaking what we do based on subscriber feedback, and we will frequently run surveys to find out how we can improve what we do.
Best things about being part of the team?
Everyone in the Subscriptions team gets on very well. The morale in the office is high, and we're all very supportive of one another.
And we enjoy working with the people at the "Friend" team, of course!
Favourite bits of the "Friend"?
Pamela: I like the "Between Friends" pages. It's great to hear how much the readers love the magazine.
Paul: I like that it's stayed true to its brand. Even after all these years, it's still traditional and wholesome.
---
Interested to hear more from the team? Click here to read our blog!