Sarah and Oor Wullie's Big Bucket Trail
---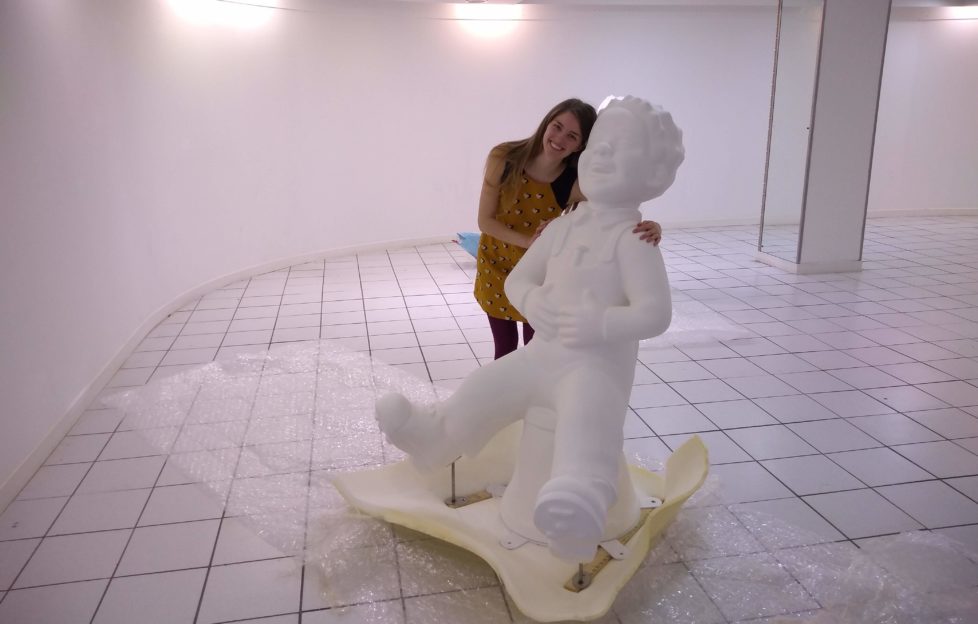 A few months ago I was presented with an exciting proposition: would I like to design and paint a life-size Oor Wullie sculpture, as part of the Oor Wullie's BIG Bucket Trail?
Along with a host of others, the completed sculpture would be placed on public display, then auctioned off to raise money for The Archie Foundation.
I was delighted to accept the challenge. It gave us a great chance to celebrate the 150th anniversary of "The People's Friend"!
I got together with "Friend" Editor Angela and Design Editor Jaclyn. We decided that the statue should display landmarks from the five cities in Scotland where the Trail is being held (Dundee, Aberdeen, Glasgow, Edinburgh and Inverness). I started to come up with some designs in the style of our J. Campbell Kerr cover artwork, incorporating some of the very first covers of the "Friend" around Wullie's bucket.
Translating a 2D design from an A4 piece of paper into a life-size sculpture was more challenging than anticipated! There were lots of lumps, bumps, and awkward-to-paint areas.
Getting To Work
I began with the easy parts. I painted the whole statue a nice sky blue, blocking out the main areas of land in a kind of ribbon shape around his body. Then I painted the golden bucket, and soles of his shoes. Finally, I worked more and more detail into the landmarks, finishing off with the decorative vintage pages around the bucket.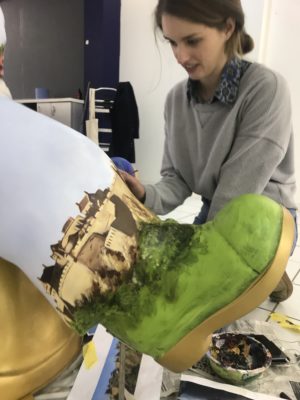 That was three weeks of intensive painting, with hours out of the office each day to make sure the task was completed on time.
It was just as well I had a strict deadline. I could have kept on adding details and making tweaks forever. Eventually, though, I had to decide the design was finished.
It wasn't exactly a stress-free experience. But I had loads of fun trying something totally different and working with a unique canvas. All-in-all I'm super proud of how it turned out. Especially knowing that it will be raising money for a great cause!
For more on Oor Wullie's BIG Bucket Trail, see Lucy's article here.
Check back on Monday, June 17 to see Sarah's finished creation!