Writing Prompt Story Starter: Wellie Boot
---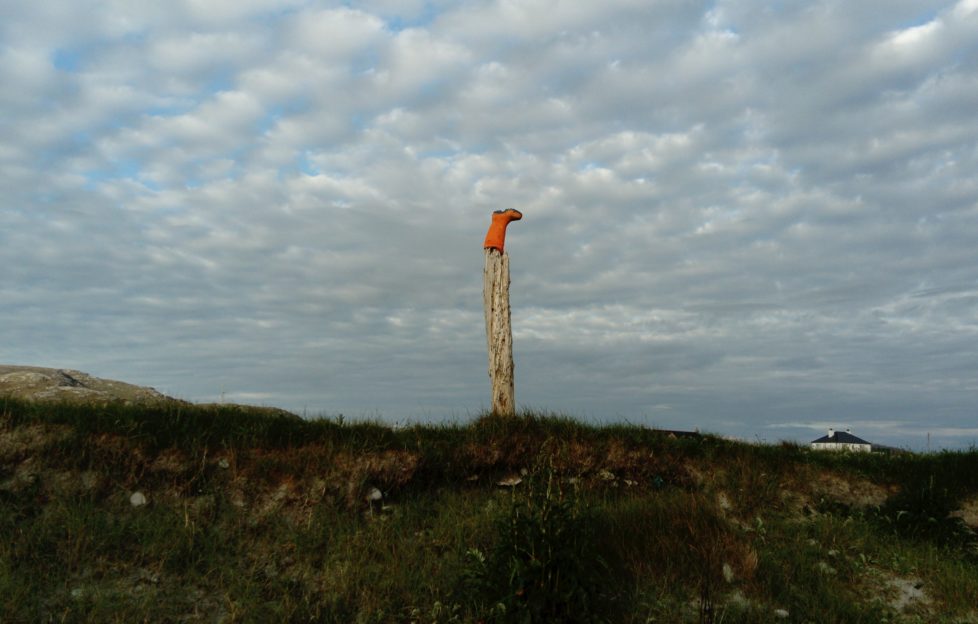 Photograph by Angela Gilchrist
I have Ed Angela to thank for this week's Writing Prompt Story Starter wellie boot image.
(I seem to have started something more than just stories with these. The number of people who now come up to me brandishing their phone and saying, "I saw this and I thought of you . . ." It's fab!)
Anyway, Angela was on holiday in the Outer Hebrides recently (she's written about it here) and took this picture with her phone camera.
Nope, no idea. I don't know what the wooden pole is, and I don't know why there's an orange wellington boot stuck on the top of it.
Who did it? Has anyone missed it? Did the owner have to hop home?
Was it a stray shot from a wellie boot throwing contest? It looks like shoreline. Were a bunch of bored fishermen lobbing them ashore from their boat? Seeing who could reach land?
Is it simply an imaginative way-marker?
Think laterally
Now, a literal interpretation of the pic will have limited scope – and appeal – so we need to be thinking laterally, too. Metaphorically.
Things out of place. Random acts of craziness. High jinks. Boredom.
Redundancy?
Creativity or rebellion?
Orange: a warning?
It lends itself to lots of much more challenging themes, and I'm going to leave you to do the thinking on that.
I've just looked beyond the obvious at the cloud formation. Someone will know exactly what kind of clouds these are, but to me they look like those rippled sheets of cotton wool . . . and cotton wool offers a whole new raft of story ideas.
There's tussocky grass strewn with rocks in the foreground. Look at the granite rocks behind, too. Quite ancient looking . . .
And if you squint, you might just notice the house over at the right, isolated and solitary.
Thanks, Angela. This pic is rich with inspiration. Perfect to prompt our writers to work their magic!
If this doesn't quite work for you, take a look for another story starter here.