Orange Pepper, Red Onion & Goats' Cheese Hash with Eggs
---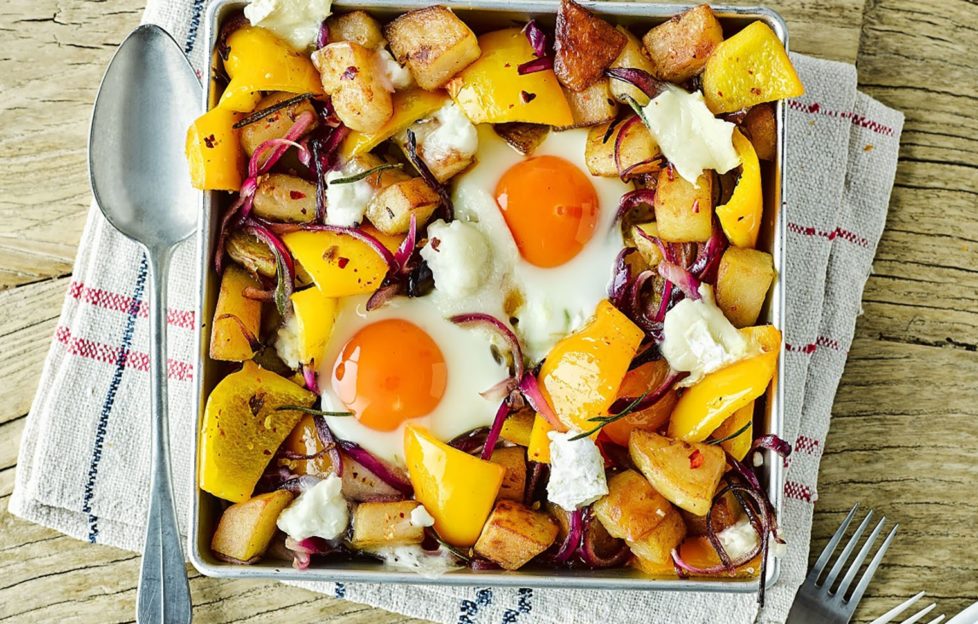 Ingredients
2 orange peppers
300 g (10½ oz) cooked potatoes
1 large red onion
50 g (1¾ oz) goats' cheese
Olive oil
A pinch of chilli flakes
A couple of sprigs of rosemary
2 tsp red wine vinegar
2 eggs
Recipe and image courtesy of It's Pepper Time.
This orange pepper, red onion & goats' cheese hash with eggs is bound to become a staple of your diet, no matter the season.
It's so simple to make, and a great way to feed the family without spending too much money at the supermarket!
Method
Cut the peppers and potatoes into medium-sized chunks, thinly slice the red onion and cut the goats' cheese into cubes.
Add 2 tablespoons of olive oil to a large non-stick frying pan and fry the potatoes, chilli and rosemary sprigs for 8-10 minutes until lightly golden on all sides. Remove from the frying-pan and put to one side.
Add the onion and peppers to the pan and fry for 6 to 8 minutes until soft and tinged golden brown.
Add the potatoes back to the pan, pour over the red wine vinegar and dot with the goats' cheese.
Clear two small spaces in the pan and break in the eggs. Fry for two minutes then place under a hot grill for 30 seconds to finish before serving.
Enjoyed this recipe? Click here for lots more!
We feature plenty of delicious dishes every week in the printed edition of "The People's Friend". If you're looking for something new to try, make sure you don't miss out — subscribe to the magazine today!
If you subscribe by Direct Debit, you'll even save a massive £29!