Mini Victoria Sponges For Afternoon Tea Week
---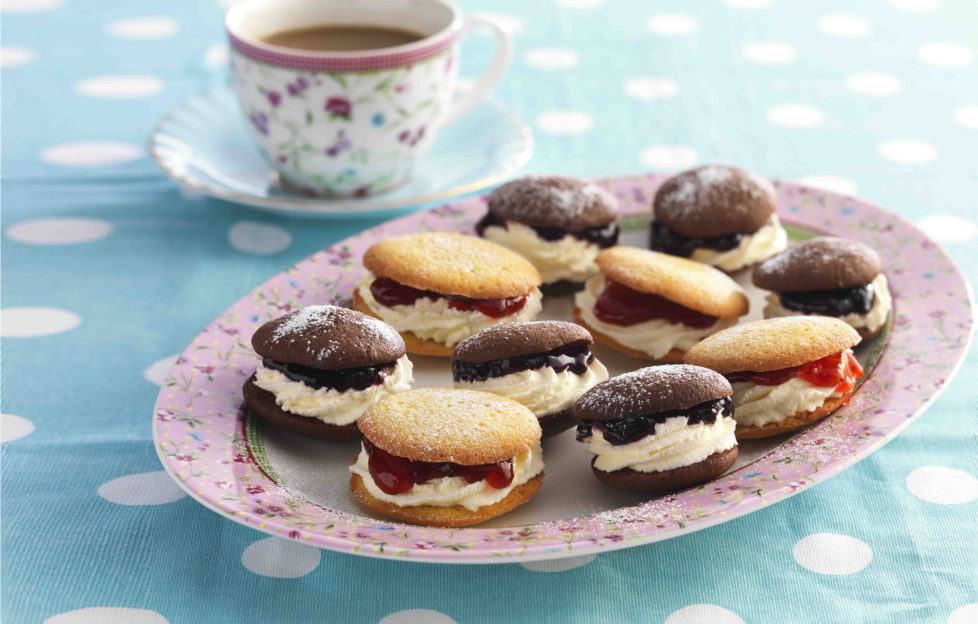 Ingredients
100 g (3½ oz) unsalted butter
100 g (3½ oz) caster sugar
125 g (4½ oz) self-raising flour
2 eggs, beaten
1 tbs cocoa powder
200 ml (7 fl oz) fresh double cream
4 tbs Duerr's Strawberry jam
4 tbs Duerr's Blackcurrant jam
Icing sugar, to dust
Recipe and image courtesy of Duerr's.
This week is Afternoon Tea Week! And we have the perfect recipe to celebrate: mini Victoria sponges!
Method:
Pre-heat oven to 180 deg. C., 350 deg. F., Gas Mark 4. Line 4 baking trays with non-stick paper or parchment.
Weigh the butter, sugar and flour into a large bowl and add the eggs. Beat with an electric whisk for 2 to 3 minutes until well combined, light and fluffy.
Spoon about half of the mixture into another bowl, sift over the cocoa powder and stir in gently with a metal spoon.
Place small teaspoons of the plain mixture neatly on to the prepared baking trays. You should be able to fit about
12 on each tray. Bake in the pre-heated oven for about 5 minutes until just firm but springy to the touch. Repeat with the chocolate mixture. Set aside to cool.
In a bowl, whip the cream.
When the sponge drops are completely cool, spoon or pipe a little cream on to half the drops, then add a blob of jam (blackcurrant on the chocolate sponge, strawberry on the plain). Place another sponge drop on top, dust with icing sugar and serve.
We love a cup of tea here at the "Friend", whether its just a quick five minutes away from the desk, to keep the vulnerable company, or to raise money for charity. That's why we're excited to enjoy these mini Victoria sponges . . . once the kettle boils!
Click here to see our other recipes. If you have a sweet tooth, you may want to pay particular attention to this sweetheart semi-freddo lime, coconut and avocado cheesecake.