Knitting Preview: September 21, 2019 issue
---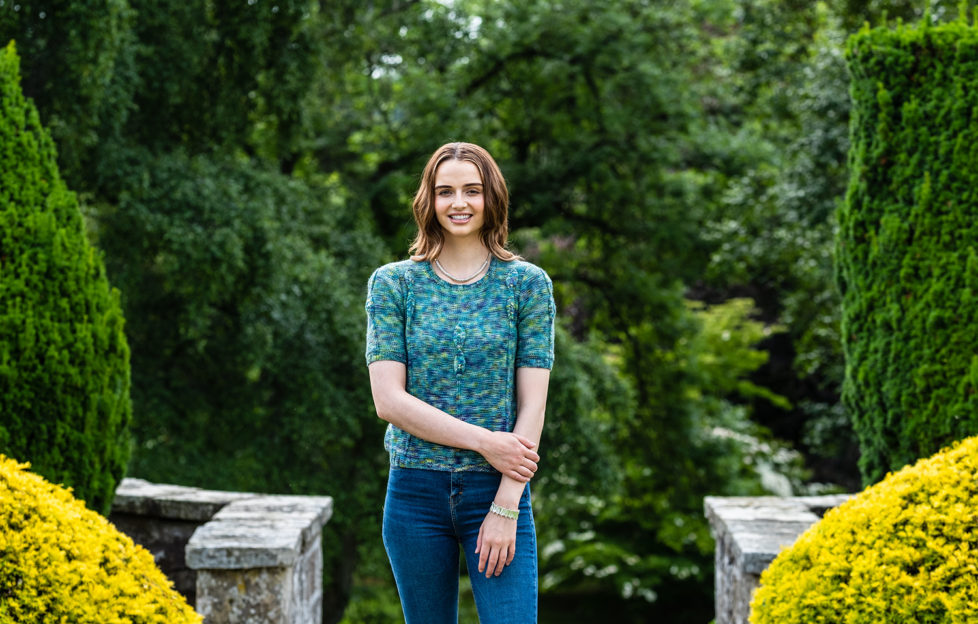 Photograph by Ally Stuart.
In this week's knitting preview, you get a sneak peek at a little luxury.
In the September 21 issue of "The People's Friend", we're indulging ourselves with this textured top worked in a top quality yarn.
It features Rico Design Luxury Hand Dyed Happiness DK, a beautiful yarn in blues and greens which blend and merge to create a stunning palette.
Worked against a background of reversed stocking-stitch, leaf and stem motifs add a textured detail to the top.
These panels are worked over a 40-row repeat.
The stitches are not too difficult, but careful counting is essential.
For this reason we have graded this an Intermediate piece.
Instructions cover six sizes, ranging from 76/81 cm (30/32 ins) to 127/132 cm (50/52 ins).
Actual size is 7 – 12 cm (2 – 4  ins) bigger.
The short sleeves make it an ideal choice for this time of year, when the weather can be variable, and it is perfect for wearing around a heated house when the temperatures drop
The yarn comes in 100-gram hanks, and you need between two and four to complete your garment.
Order from your local Rico stockist or from www.laughinghens.com.
This is a timeless top, which is versatile enough to suit any occasion.
Go on, treat yourself!
Click here for more beautiful craft content.
If this knitting preview has piqued your interest, why not take out a subscription to "The People's Friend"? For a limited time only, new subscribers will receive a free bottle of Emma by Laura Ashley perfume!