Knitting Preview: September 28, 2019 issue
---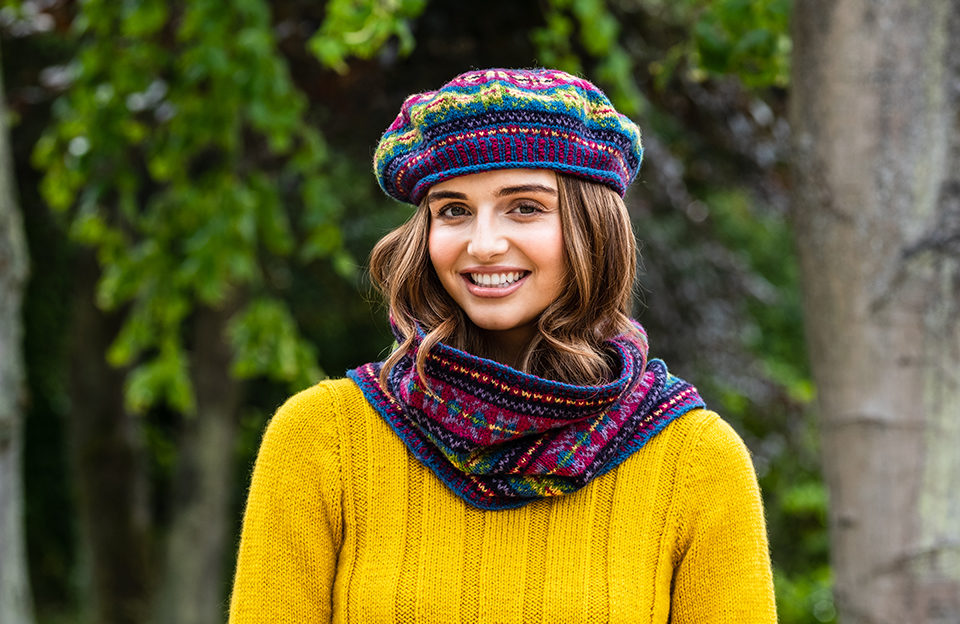 Photograph by Ally Stuart.
This knitting preview for our next issue is sure to awaken the crafty among you!
We are offering you a stylish set of beret and snood, worked in the traditional way with bright, modern colours.
Fair-Isle patterns are right on trend this autumn, and this duo is the perfect choice.
Work both pieces in Jamieson & Smith 2-ply Jumper Weight-100% Shetland Wool (we use six shades in total) on 3mm (No. 11) and 3.25 mm (No. 10) circular or double-pointed needles.
We recommend the Fair-Isle method. With this technique, the yarn not in use is stranded behind the row, being caught in every few stitches so that the loops at the back of the row are not too long.
This creates a very cosy fabric, as it is almost double thickness.
It is important not to pull the loops too tightly, or you will end up with a puckered fabric.
Beret and snood designer Monica Russel is selling yarn packs with all the yarn you need to make one or both items.
Monica also has a new book out, "Fair Isle Knitting, A Practical & Inspirational Guide", published by Search Press.
To order the yarn packs and/or the book, visit www.theknitknacks.co.uk.
Finally, we have labelled these instructions Advanced.
Practise, practise, practise
You will need to be able to work with more than one yarn at a time, and you need to be able to follow a chart.
If you would like to have a go but have never worked a pattern like this before, we suggest practising with some spare yarns until you are confident you have mastered the Fair Isle technique.
This duo would also make a lovely gift.
The perfect way to show someone how much you care.
Click here for more beautiful craft content.
If this knitting preview has inspired you, subscribe to "The People's Friend" today and start tackling our weekly patterns.
For a limited time only, new subscribers will receive a free bottle of Emma by Laura Ashley perfume!