Miguel Barclay's Chicken Tikka Masala
---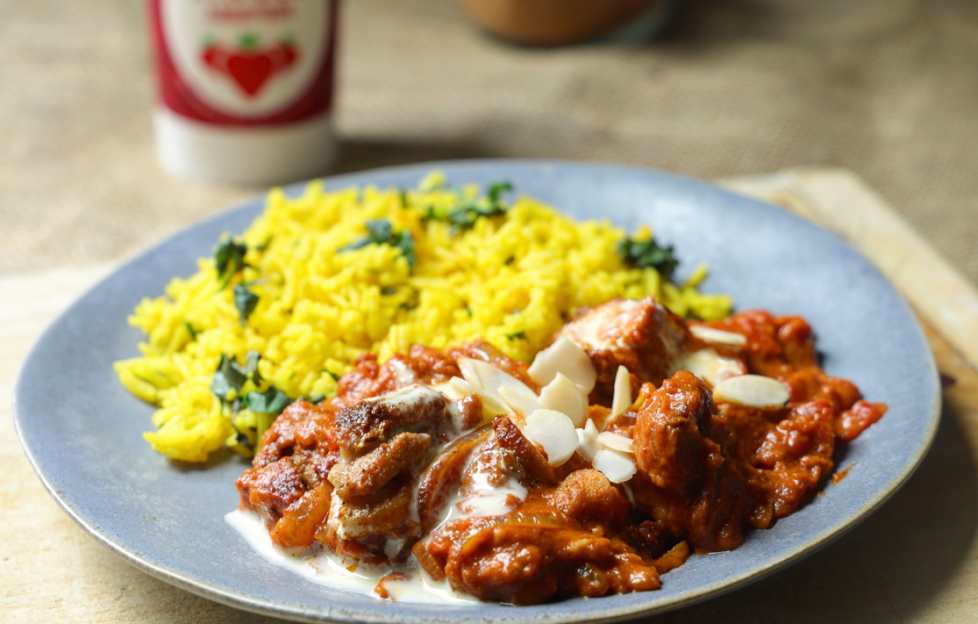 Photograph courtesy of Elmlea.
Ingredients
1 chicken thigh (de-boned and de-skinned)
3 tsp tandoori curry powder
Sunflower oil
Salt and freshly ground black pepper to taste
1 medium white onion, sliced very thinly
1 clove garlic, sliced thinly
200 g (7 oz) tomato passata
1 tsp ground almonds
A splash or two of Elmlea Double to taste
½ mug basmati rice
Pinch turmeric
A little chopped fresh coriander
To Garnish: flaked almonds.
Recipe courtesy of Elmlea
To celebrate the 21st annual National Curry Week, we thought we'd bring you this classic Chicken Tikka Masala recipe.
The origins of this dish might be shrouded in mystery, but the recipe is very straightforward. You'll be sitting down to dinner in no time at all!
Method:
Rub the de-boned, de-skinned chicken thigh with 1 teaspoon of tandoori curry powder (red in colour), a little sunflower oil and salt and pepper. Leave to marinade for between 30 minutes and 3 hours.
Pan fry the chicken over a medium heat for about 5 minutes on each side until cooked in the middle and slightly charred. Remove from pan and rest for a few minutes then chop into 1 inch cubes.
Make the sauce by pan frying and seasoning the very thinly sliced white onion in a splash of sunflower oil. Handy tip: use a mandolin on the thinnest setting for a fine slice.
After a couple of minutes sweating the onion in the frying-pan, add the garlic. Continue to fry for a minute or two until it starts to brown.
Add the rest of the curry powder and fry for 30 seconds. Add 200 g (7 oz) tomato passata and a splash of water. Leave to simmer for a few minutes.
Add the ground almonds and check seasoning. Simmer for five more minutes before stirring in a splash of Elmlea Double.
To combine all ingredients, add the chicken and transfer to a bowl before finishing with a splash more Elmlea Double and a sprinkle of sliced almonds.
While the curry sauce is cooking, prepare the basmati rice by adding 1/2 mug of rice to 1 mug of water, a pinch of salt and a pinch of turmeric to a saucepan.
Boiling with the lid on for about 10 minutes until all the water has been absorbed. Fluff with a fork and stir in chopped coriander.
See more recipes from "The People's Friend" here.
We're big curry fans in the office, so this isn't our first spicy recipe.
There's Hugh's Chickpea & Ketchup Curry, an Aubergine, Butternut Squash and Chickpea Curry, and even a Lamb And Leek Thai Curry to choose from, too!