Knitting Preview, October 19, 2019 issue
---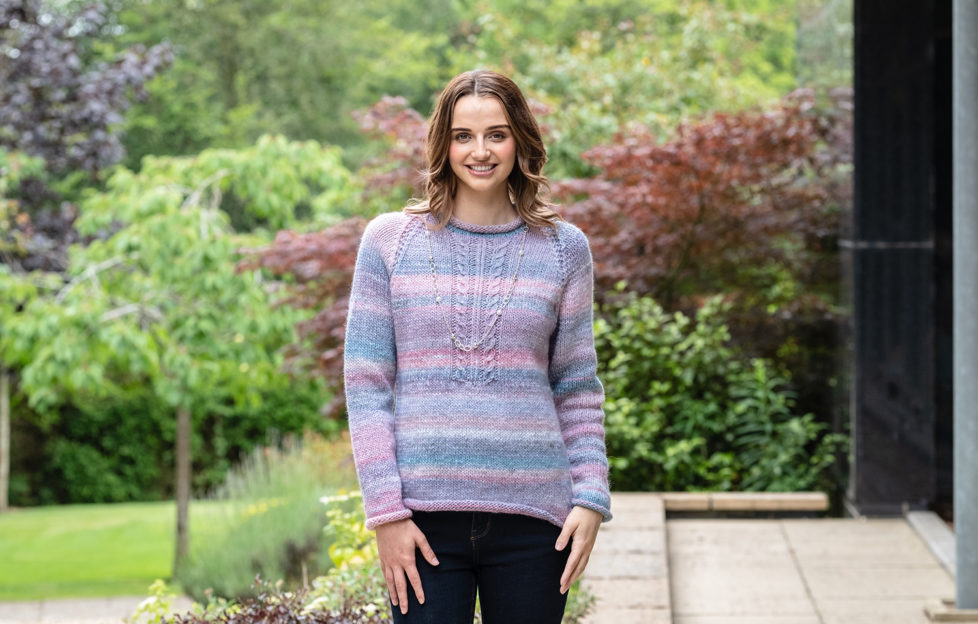 Photograph by Ally Stuart.
Welcome to the knitting preview for our upcoming October 19 issue, where our readers can look forward to a longer length of tunic.
This top comes with instructions for six sizes ranging from 76/81 cm (30/32 ins) to 127/132 cm/ (50/52 ins). Actual size is approx. 22/17 cm (8¾/6¾ ins) bigger, giving you a comfortable, looser fit.
The cable yoke is worked on the back as well as the front. The sleeves will work up quickly as they are simple stocking-stitch. A roll neck and cuffs completes the styling.
This tunic is a perfect introduction to using a cable needle, with the 18-stitch pattern repeat worked over four rows.
The yarn used is Rico-Design Creative Melange Chunky in Pink Blue (060). This easy-care wool-acrylic blend adds colour texture, as the colour mixes move smoothly from one shade to the next creating soft fades and strong stripes.
If our colour choice is not what you fancy, there are 39 in total to choose from ranging from similar subtle shades to stronger, bolder hues.
You can check out the selection and, if you want, order at www.woolwarehouse.co.uk.
This is the perfect choice for this time of year. Start knitting now and it will be finished in no time!
If this knitting preview has encouraged you to pick up your needles again, remember we have patterns in every issue.
Subscribe today at the DC Thomson Shop.
To take a look at our Craft pages for more creative inspiration, click here.