Knitting Preview: October 26, 2019 issue
---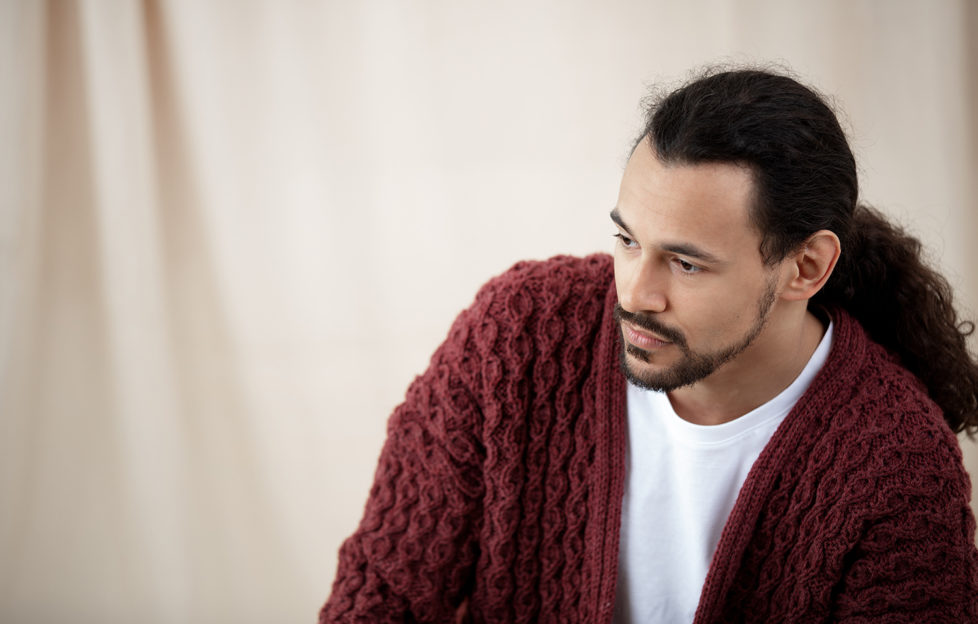 Photograph courtesy of The Home Of Craft.
Welcome to the knitting preview for our upcoming October 26, 2019 issue.
We've a lovely Aran cardigan for you this week.
Here, we have a man modelling this cardigan. But, ladies, if you like a looser fit, chunky cardigan then this could be perfect for you, too.
Just remember to switch the button and buttonhole bands!
Sizes start at 81/87 cm (32/34 ins) and finish at 112/117 cm (44/46 ins). It is very generously made, with actual sizes being around 45/40 cm (19/17 ins) larger.
This also means it is perfect for wearing out and about as a top layer.
We've marked it intermediate, because there are twist stitches included in the instructions.
They may seem a bit tricky to begin with, but they become easier with practice.
The yarn used is Wendy Aran with Wool (400-g balls) in the shade Beet (5511).
There are 24 shades to choose from, ranging from neutrals to strong spice colours with blues, pinks and greens, too.
It is great value. It costs around £20 for the first two sizes, and about £30 for the third and fourth sizes.
You can find out more about the yarn and find a stockist at www.thehomeofcraft.co.uk.
Finally, you will need five buttons to complete the garment.
If this knitting preview has encouraged you to pick up your needles again, remember we have patterns in every issue.
Subscribe today at the DC Thomson Shop.
To take a look at our Craft pages for more creative inspiration, click here.