Knitting Preview: November 30, 2019 issue
---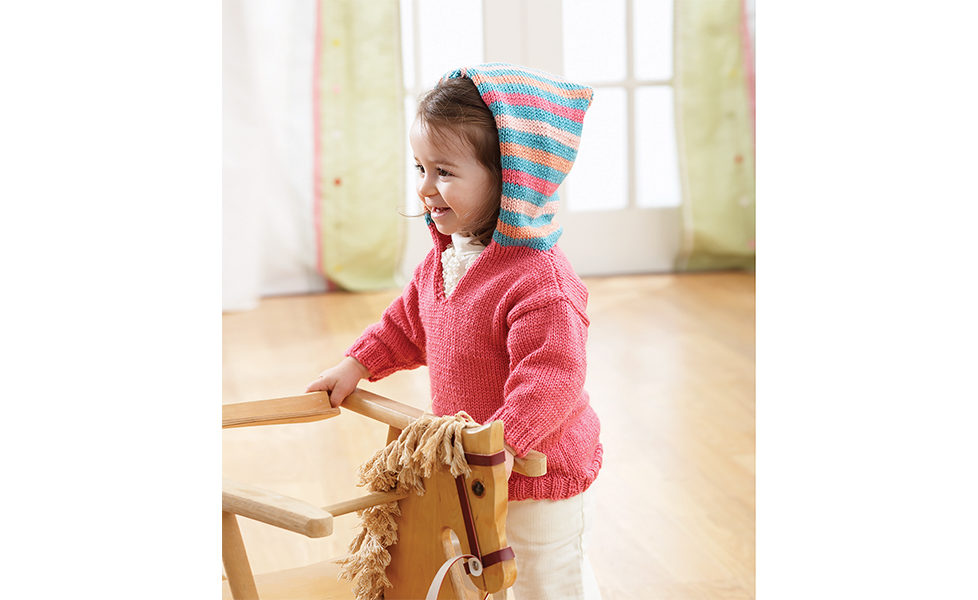 Photograph courtesy of Bernat Yarns.
Stripes are the theme in this week's knitting preview. Our November 30 issue even has two designs to choose from!
This simple top with striped hood is our answer to your requests for patterns for little ones. It comes in four sizes ranging from 3 to 18 months.
Worked in stocking-stitch throughout, it will work up very quickly.
The yarn used is Bernat Softee Baby in Soft Red (30424), Pumpkin (54005), Aqua (30201) and Soft Peach (30410).
You will need one or two balls of the main shade and one each of the contrasts. You can view and order the yarn from www.readicut.co.uk.
Keeping with the striped theme, we have this gorgeous blanket for a baby.
Knit for someone you love
It is worked in Bernat Softee Baby Stripes in Spring Blossom Stripe (53011). Clever shading creates the stripe pattern as you knit.
This yarn is also available from www.readicut.co.uk, and comes in 14 variations ranging from soft pastels to bold, bright shades.
The ripple pattern is formed by working a 16-row repeat.
Apart from stocking stitch (knit one row, purl one row), you need to be able to K2tog and work yarn over needle and SSK.
If you have not worked these before, you will soon get to grips with them.
The finished size of the blanket is approx. 91.5 cm (36 ins) x 122 cm (48 ins).
Knitting for someone you love is a great way to show you care, so why not treat a little person to one (or both) of these designs.
If this knitting preview has encouraged you to pick up your needles again, remember we have patterns in every issue.
Subscribe today at the DC Thomson Shop.
To take a look at our Craft pages for more creative inspiration, click here.