Fiction Sneak Peek: November 30, 2019 issue
---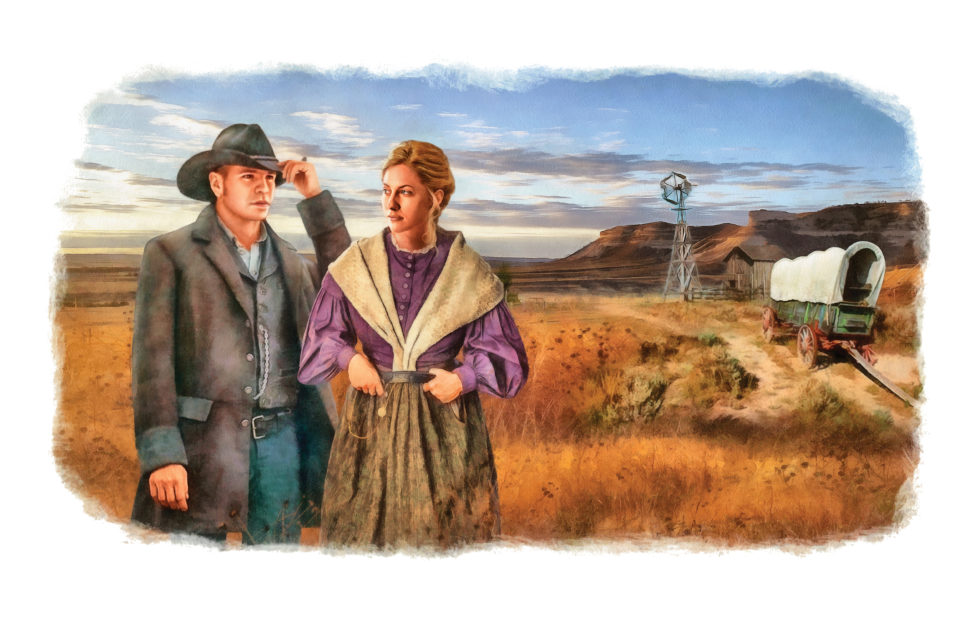 Illustration by Gerard Fay.
What a way to open our sneak peek, and our latest issue: with a brand-new story from a brand-new writer.
"Westward Bound" by Sandy Salisbury takes place in the 1880s. It follows the story of Annie and her young family en route to California. They're heading towards a new future, but also running from the past.
Working in a library would be the dream job for many of us, but Celine knows not everyone is cut out for it. Like Aurelie in "One For The Books" by Katie Ashmore, illustrated by Mandy Dixon.
It was Scotland's National Bard who said "O, wad some Power the giftie gie us. To see oursels as others see us!" That's the theme of Alison Carter's story "As Others See Us", illustrated by Jim Dewar.
Then, a doctor's prescription with a difference could be the answer in "The Right Medicine" by Teresa Ashby.
"Seeing The Lights" by Rebecca Holmes is our first Christmas story of the year, about switching on the lights in Hopewell. But first the committee has to meet, plans have to be made, a suitable switcher-on has to be found . . .
"Along For The Ride" by Annie Harris is another story set in the 1880s — a very good period! This one takes place just as bicycles are catching on . . . and Daisy wants to join a bicycling club. What, a woman? There's lots of huffing about that!
In "All Shook Up" by Julia Douglas, Nita is on her way to the famed Abbey Road studios. Can she finally make Dad proud? Without wishing to plot-spoil, Elvis fans will love this! Illustration: Jim Dewar.
Series
In the latest "Hold The Front Page" by Eirin Thompson, the mantra is "If we build it, they will come." But what, and who?
Building's the theme in "Riverside", too, our exclusive weekly soap by Glenda Young. The building in question is the new rival bistro, and Clive's awaiting his interview . . .
Serials
It wouldn't be Christmas — nearly — without a festive "Friend" serial. "A Fairy-tale Christmas" by Jan Snook is set in a London theatre at panto time. Jane's our heroine, but who's the hero? And who's the wicked witch? Illustrated by Ruth Blair
Vera's childhood sweetheart has returned in "After The Armistice", our poignant post-war serial by Pamela Ormondroyd, illustrated by Gerard Fay.
Oh, and Gerard is our Illustrator of the Week, where he talks about how his artwork brings our stories and serials to life.
If you've enjoyed this sneak peek, now's the time to take out a subscription.
With Christmas just around the corner, it would also make the perfect gift for someone special!
Click here for more information, or to buy.