Slow-cooked Beef in Red Wine
---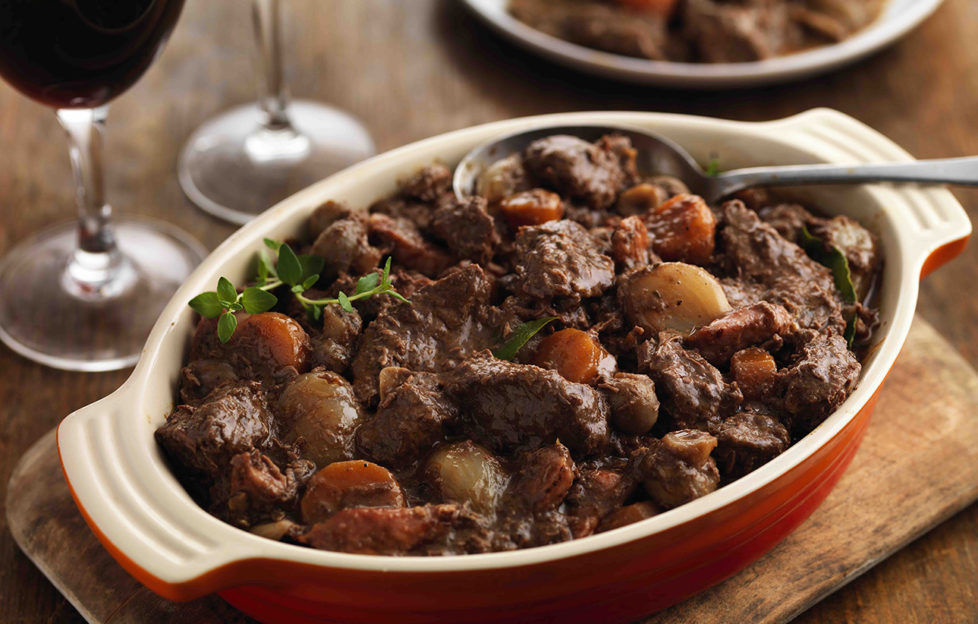 Photograph courtesy of Eisberg.
Ingredients
2 tbs plain flour
Salt and freshly ground black pepper, to taste
1 kg (2 lb 4 oz) casserole steak, diced
1 tbs light olive or vegetable oil
2 large carrots, peeled and sliced
2 cloves garlic, sliced
500 ml (18 fl oz) Eisberg Cabernet Sauvignon
1 beef stock cube plus 300 ml (½ pt) boiling water
1 tsp dried thyme
2-3 bay leaves
1 tbs tomato purée
10 shallots, peeled and left whole
200 g (7 oz) baby button mushrooms
100 g (3½ oz) smoked streaky bacon, chopped, or lardons
To Garnish: fresh thyme.
To Serve: mashed potatoes; green beans.
Recipe courtesy of Eisberg.
The trend for slow-cooked food isn't going away any time soon.
And here at the "Friend", we're more than happy get involved, with this alcohol-free Slow-cooked Beef In Red Wine recipe.
But don't worry if you don't have a slow cooker — you can also use a casserole dish with a tight-fitting lid.
Method:
Place the flour in a bowl and season with a pinch of salt and a good grind of black pepper. Add the beef and toss well to coat all the pieces of meat.

Heat a drizzle of oil in a large frying-pan and add about a third of the beef.

Cook quickly just to seal on all sides, then tip into a slow cooker. Repeat this process with the remaining meat.

Add the carrots and garlic to the frying-pan and fry for one minute, then add to the slow cooker.

Pour over the Eisberg wine and stir, then add the stock, thyme, bay leaves and tomato purée. Cover with the lid and cook on low heat for 4 to 5 hours.

Turn the heat to high, then add the shallots and mushrooms.

Fry the bacon in a small pan then tip into the slow cooker and cook for a further hour.

Alternatively, if you don't have a slow cooker, use a casserole with a tight fitting lid and cook in the oven at 150 deg. C., 300 deg. F., Gas Mark 2 for about 3 hours, ensuring that there is enough liquid in the dish.

Once you have added the shallots and mushrooms, turn up the heat to 180 deg. C., 350 deg. F., Gas Mark 4 for 45 minutes to 1 hour.

Check that the meat is tender and add a little more black pepper if desired (but no salt as the bacon is salty).

Garnish with fresh thyme and serve with mashed potatoes and green beans.
For more of Cookery Ed Marion's recipes, click here.
Remember, we feature a whole host of recipes in every issue of our weekly magazine. Make sure not to miss your next "Friend" fix by subscribing today. 
New subscribers will receive a free Christmas Star Fudge Tin.