Features Sneak Peek: December 7 & 14 2019 Issue
---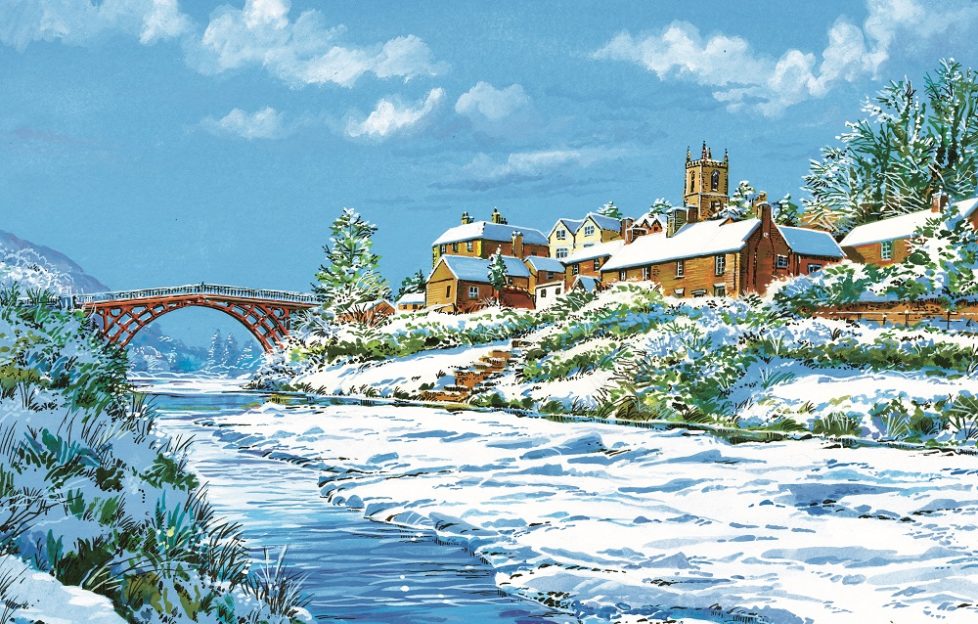 Illustration by DC Thomson Ltd.
As we enter Advent, it's time for our first festive bumper issue! We have 143 pages of uplifting content to get you in the mood for Christmas.
This bumper issue is fronted with a cover feature on the legacy of Ironbridge Gorge. Learn about the significance of the town of Ironbridge to the industrial revolution across the whole of the UK. Writer Simon Whaley also tells us about the various museums you can visit in Ironbridge to find out more about the town's history yourself.
Simon even takes a step back in time and converts his cash into pounds, shilling and pence, which can be done in the local bank in Ironbridge and used in the town's shops. His gander around the town will not only clue you up on the history behind it, but also get you feeling festive as we see the community getting in the Christmas spirit!
Tinsel Factory Tour
Discover the festivities taking place in the heart of Cwmbran industrial estate in Wales, where one of Europe's largest tinsel manufacturers is tucked away. In so called "Tinseltown", the workers produce enough tinsel in one year to wrap around the moon's circumference!
Read all about how tinsel is made and how to look after your tinsel to ensure it lasts for years to come.
The Hidden World of the Fox
Our Features Editor Alex Corlett speaks to ecologist Adele Brand about her book on "The Hidden World of the Fox". These often overlooked creatures are more impressive than you may realise, the North American grey fox is the only member of the dog family that can climb trees.
Learn about these intelligent and fascinating creatures as Adele tells Alex about the inspiration behind her book.
80 Years of "Gone With The Wind"
Released in 1939, "Gone With The Wind" has now been enjoyed by audiences for 80 years. Dawn Geddes looks at the making of the classic film which is still much loved today.
The epic historical romance won eight awards at the 12th Academy Awards ceremony in the year of the film's release.
Happy 35th Birthday to Band Aid
In the spirit of Christmas, our writer Douglas McPherson looks at the now well established tradition of Band Aid festive hits.
Experience some nostalgia as we look back at the practice started in 1984.
Secret Santa 365
Meet the twenty-one year old who has been spreading Christmas cheer to the elderly since her teens. Courtney's charity, Secret Santa 365, delivers Christmas presents to patients in hospitals every year.
Since the charity began, it has distributed more than £250,000 worth of gifts to those who are often lonely at Christmas.
Plastic Free Christmas
With concerns ever increasing about our plastic consumption, consumer expert Sarah Jagger tells us how we can cut back on plastic this Christmas. These easy swaps in your festive routine can make all the difference at a time of year filled with too much plastic.
Pick up this week's issue for an environmentally friendly Christmas!
Festive Feast
In this issue, we have a selection of festive recipes from our cook book, "150 Years Of Christmas Cookery".
This classic Christmas lamb roast looks perfect for a festive spread.
We also have Jerusalem Artichokes, Scotch Trifle and more!
Elsewhere in this issue: find out how to improve bloating, avoid a Christmas call-out, read a selection of Christmas poetry, learn how to ensure your pets enjoy the festive season, read a Hand Of Friendship update and much more.
A subscription to "The People's Friend" makes for the perfect Christmas gift. Click here to check out our subscriptions.