Knitting Preview: December 21, 2019 issue
---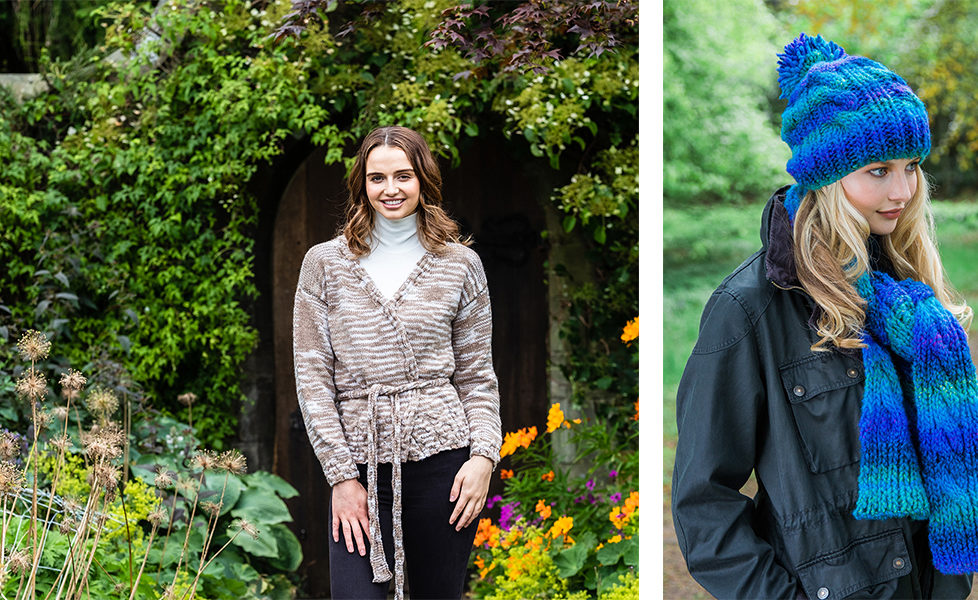 Jacket photograph by Ally Stuart Photography. Hat and scarf set photograph courtesy of Rico Yarns.
This week's knitting preview features another double helping — because we really want you to stay cosy this winter!
We have a gorgeous jacket with cross-over fronts and a belt, plus a colourful, fun hat and scarf set.
Our jacket comes in eight sizes ranging from 81 cm (32 ins) to 117 (46 ins). Actual size is just over 10 cm (4 ins) bigger.
We have rated the jacket as intermediate.
You work it in stocking-stitch with cable borders, edgings and belt. But you do need to keep an eye on your decreases when working the fronts.
The yarn used is Rico Design Creative Soft Wool Print Aran in Ecru (005). There are other print shades available.
As the name suggests, this is a soft-feel yarn. The print effect creates a lively, random look.
If you prefer a solid colour, then check out the range of Rico Design Creative Soft Wool Aran shades, there are plenty available.
Whichever you choose, this jacket is great value, with the first two sizes costing less than £20 to make.
You can view the ranges and order direct from www.myyarnery.co.uk.
Our hat and scarf set
Looking for a quicker, simpler option?
Our hat and scarf set also features a cable, and uses Rico Creative Melange Big (Super Chunky).
We have opted for Multi Turquoise (006), but you can view the range and order direct from www.thewoolfactoryonline.com.
You will also need 9 mm (No. 00) and 10 mm (No. 000) knitting needles. The Wool Factory stocks these, too.
This is a design suitable for all the family, with the hat coming in three sizes starting at a child's size (44 cm/17¼ins).
The scarf comes in two sizes (child or adult), but you could adjust the length to suit.
Whatever you decide to make, all three garments are ideal to beat those winter chills!
We bring you a knitting and craft preview every week, alongside sneak peeks at our features and fiction. Keep up to date on our This Week's Issue pages.