Italian Pepper Stew with Sausages and Crispy Kale
---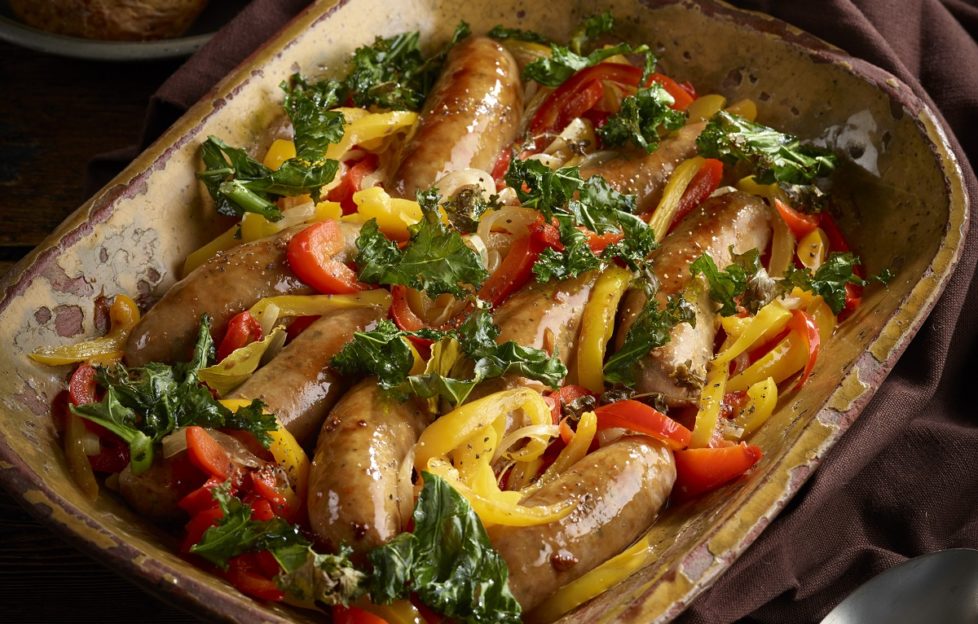 Image courtesy of Love Pork.
Ingredients
2 tbs olive oil
1 onion, sliced finely
2 red peppers, halved, deseeded and sliced finely
2 yellow peppers, halved, deseeded and sliced finely
8 Italian-style sausages
2 garlic cloves, sliced finely
200 ml (7 fl oz) light red or dry white wine
200 ml (7 fl oz) hot vegetable or chicken stock
1 marjoram sprig, chopped, or use ½ tsp dried marjoram
1 marjoram sprig, chopped, or use ½ tsp dried marjoram
1 tbs red wine vinegar
For the Crispy Kale:
100 g (3½ oz) chopped kale
1 tbs olive oil
Salt and freshly ground black pepper, to taste
Recipe courtesy of Love Pork.
Even though the festive season has passed, it's still a little chilly outside.
If you're like us, your leftovers have run out, and you'll be searching for a tasty way to fortify yourself against the continuing cold weather.
We can't think of many better suggestions than this Italian Pepper Stew with Sausages and Crispy Kale recipe!
See what you think.
Method
Heat the oil in a large pan and add the sliced onion and peppers.

Stir everything together then add 1 tablespoon of water and turn the heat down low. Cover and cook for 30 minutes, stirring every now and then. Add a drizzle more water if the pan looks dry during this stage.

Brown the sausages in a separate pan. Stir the garlic into the peppers and cook for 1 minute.

Add the sausages to the pepper mixture along with the wine, stock, herbs and vinegar, and continue to cook, covered for a further 15 minutes.

Pre-heat the grill.

Rub the kale with oil and season well. Spread out on a baking sheet and grill until the edges are starting to crisp up.

Divide the sausages and stew among four bowls, top with the kale and serve.
Sounds delicious to us!
If you're looking for more meal inspiration, check out our collection of great recipes on our Cookery pages.
And if you're looking for a taste of years gone by, our "150 Years Of Christmas Cookery" book is still available from the DC Thomson Shop.
Click here for more information, or to buy.