Orange Marmalade And Almond Cake
---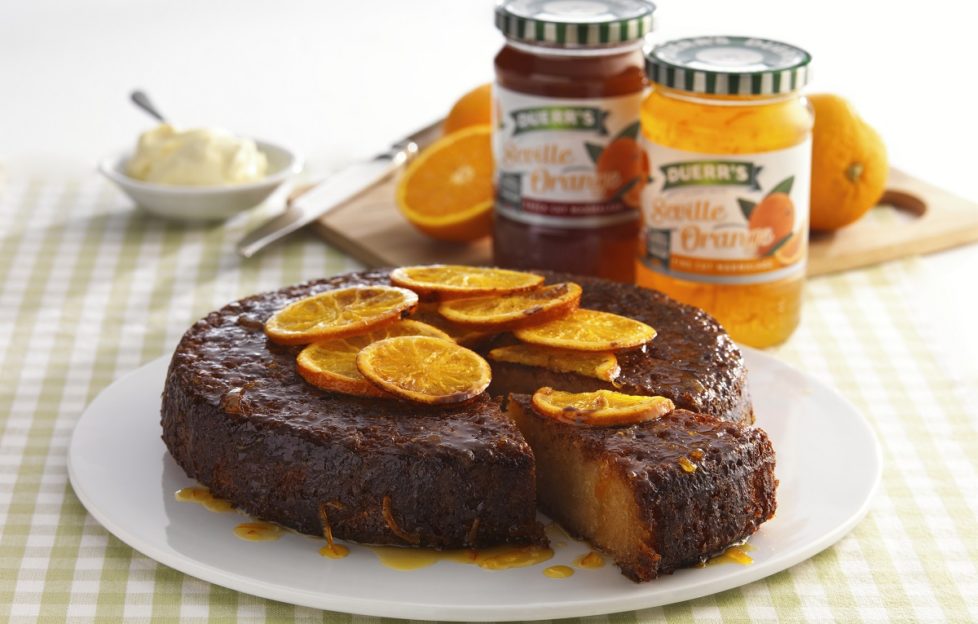 Image courtesy of Duerr's.
Ingredients
100 g (3½ oz) breadcrumbs
225 g (8 oz) caster sugar
150 g (5½ oz) ground almonds
2½ tsp baking powder
300 ml (½ pt) light olive oil
6 eggs, beaten
3 tbs Duerr's Orange Marmalade
1 orange, zest and juice
1 lemon, zest and juice
1 tbs Golden Syrup
1 cinnamon stick
1 tbs sugar
1 orange, sliced thinly
Recipe courtesy of Duerr's.
January is one of the best times to buy your oranges.
Which makes it a peak time for the "Friend" to bring you this Orange Marmalade And Almond Cake recipe!
Plus, our hometown of Dundee has a long history of producing marmalade (and jute, jam and journalism). You can find out a little more about that here.
On with the recipe!
Method:
Grease and line a 20 cm (8 in) spring-form cake tin.

Mix the breadcrumbs, caster sugar, almonds and baking powder together in a large bowl.

Beat in the oil, eggs, a tablespoon of the marmalade, and the zest of the orange and lemon.

Pour the mixture into the prepared tin and put into a cold oven.

Turn oven to 190 deg. C., 375 deg. F., Gas Mark 5 and bake for 40 to 50 minutes. Cover the cake with foil if it starts to get too dark. Cool for 5 minutes and turn on to a plate.

Make the syrup by heating the orange juice with half the lemon juice, the golden syrup, remaining orange marmalade and the cinnamon stick. Simmer for 5 minutes. Remove the cinnamon stick.

Pierce the cake all over using a skewer and spoon over the syrup.

To make the caramelised orange slices, heat a tablespoon of sugar with a tablespoon of water in a frying-pan. Heat over a medium-high heat until bubbling. Drop in the orange slices for 2 to 3 minutes and then remove and leave to harden before placing on the cake.
Voila!
Imagine sitting down to a slice of Orange Marmalade And Almond Cake with your next cup of tea!
And maybe a copy of "The People's Friend"?
Our mouths are watering already . . .
For more of our delicious recipes, click here.