Book Review: "The Gods Of Gotham"
---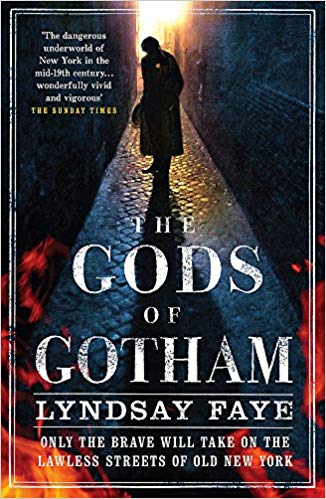 Image courtesy of Amazon.
I came to read "The Gods Of Gotham" by Lyndsay Faye after I bumped into an old friend on the train and asked, "What are you reading just now?"
I love crime books, but I've found myself moving towards historical crime more and more recently.
The detectives or investigators need to work a little harder. They don't have computers or DNA testing to help them catch their suspect!
"The Gods Of Gotham" takes place in New York in 1845. Back then, the Big Apple was very much a seething underworld of crime and discontent.
The city is seeing the arrival of Irish immigrants seeking a better life, which means a city crammed with different cultures — but the same desperation and poverty.
One native New Yorker is Timothy Wilde, who isn't long in his job in the newly formed police force when a series of grisly murders take place.
Politics, superstition and corruption hamper the investigation, and the notorious Five Points is not a safe place to be.
Timothy's brother, Valentine, is a union man with a number of murky dealings on the go.
Talking The Talk
Faye's writing is perfect. She captures the time and the characters with razor sharp realism.
She also uses "The Flash", which was the language of the criminals at the time. But you'll recognise more than a few words and phrases that have made their way into everyday speech.
The book can be hard-hitting at times, but it's never gratuitous.
She's researched everything beautifully, and you can feel the danger, smell the smells and walk in the footsteps of some memorable characters.
There are a further two books in the series and I can't wait to dive in.
Click here to take a look at "The Gods Of Gotham" on Amazon.
Click here to read more book reviews from the "Friend" team.