Writing Prompt Story Starter: Village Green
---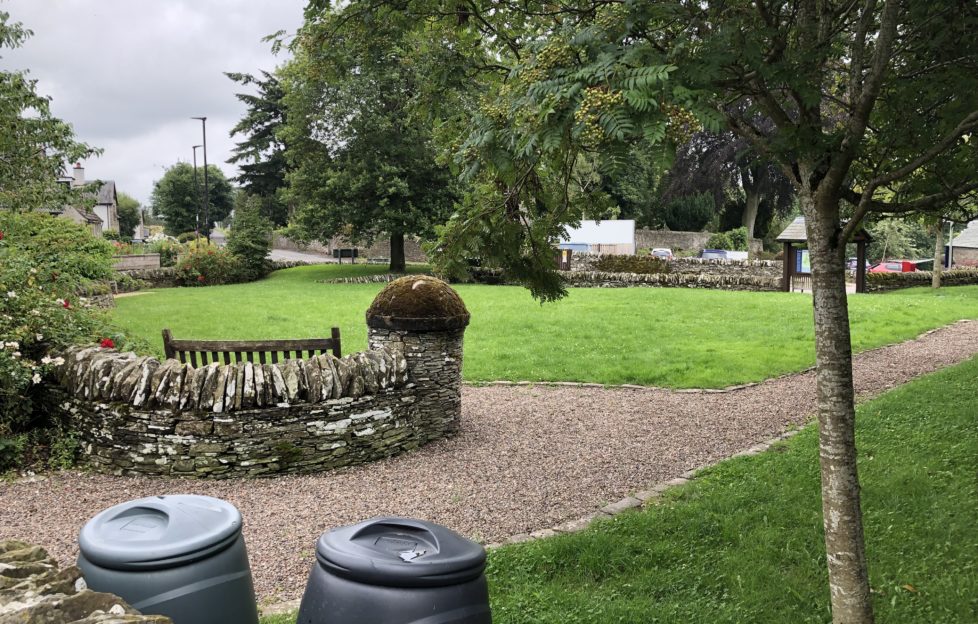 Photograph by Shirley Blair.
Now, before you think we have the most astonishing weather up here in Scotland — how come our trees are so green in February? — I actually took this story starter image last summer.
It's been biding its time in my files since.
I'm not sure why it feels like the right time for it now, but it does.
What I like is the absence of anything. A green with no children playing. A bench with no one sitting on it.
At least there are cars in the car park; it's not completely a ghost village. But where is everyone?
I kind of like the notion of a mystery. Does someone keep pinching all the compost from the compost bins? Why would anyone do that? It's obviously for community use anyway.
Who tends the grass and the trees? Who prunes the rose bushes?
What does the pic suggest?
I love the dry-stane dykes. That suggests specific location. And the moss on them suggests age, too. As do the mature trees. But the houses are quite new.
Did you spot the notice board, over there at the right? It does dual service as a bus stop, as it happens — though the bus only calls about three times a day.
What kind of problems might that cause? And who gets on it?
There's a tiny red postbox, one collection a day.
Concealed by the trees there's a church, a mill. And a castle!
Oh, I really hope this story starter prompts a mystery. But not a ghost story. It's up to you, though, of course, and wherever your thoughts take you. It's your image now!
As ever, we'd really like to see 3000-word stories, the length that most writers seem to avoid!
Alan's actually just written a blogpost about that. Interesting!
Click here to read more of our great Fiction content.