Enjoy Walnut Cookie Hearts This Valentine's Day
---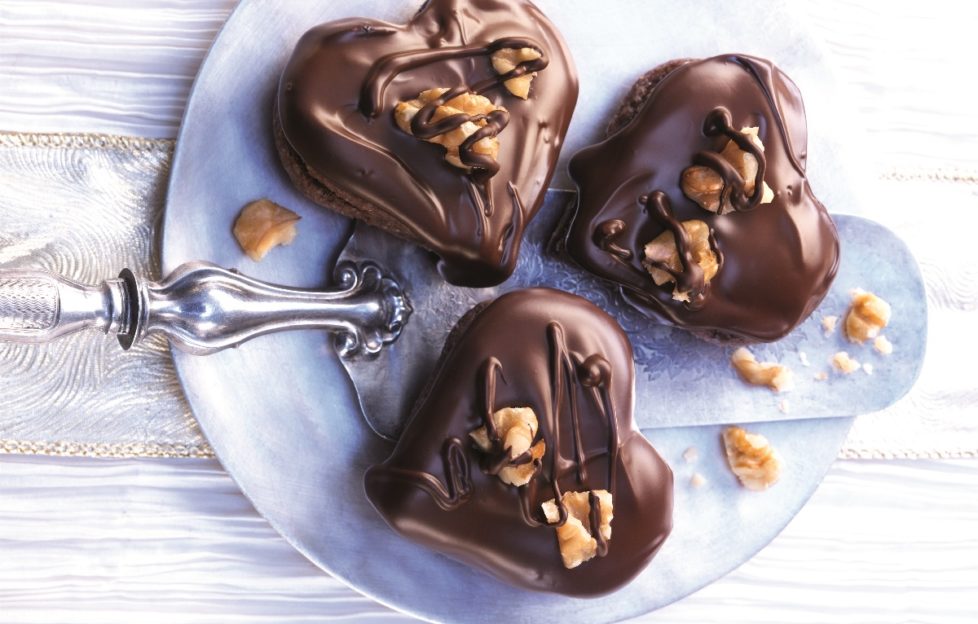 Image courtesy of California Walnuts.
Ingredients
250 g (9 oz) plain flour plus extra for rolling
125 g (4½ oz) California Walnuts, toasted
145 g (5 oz) caster sugar
40 g (1½ oz) cocoa powder
¼ tsp salt
Pinch of ground nutmeg
185 g (6½ oz) chilled butter, cubed
2 egg yolks
2 tsp water
1 tsp vanilla extract
160-210 g (5½-7½ oz) fig or apricot jam
115 g (4 oz) plain chocolate, melted
60 g (2¼ oz) California Walnuts, chopped finely
Recipe courtesy of California Walnuts.
You might not think it's ideal to spend Valentine's Day in the kitchen, but one look at these walnut cookie hearts might change your mind!
Method:
In a food processor fitted with the metal blade, combine the flour, California walnuts, sugar, cocoa powder, salt and nutmeg. Process until the walnuts are finely ground. Add the butter and pulse until blended into the dry ingredients and the mixture resembles coarse crumbs.

In a small cup, whisk together the egg yolks, water and vanilla. Add to the flour mixture and process until the dough holds together in a stiff mass.

Transfer the dough into a bowl and cover with clingfilm. Refrigerate for 30-60 minutes, until firm but not hard.

Pre-heat the oven to 180 deg. C., 350 deg. F., Gas Mark 4, and line baking sheets with parchment paper.

Divide the chilled dough in half (return one half to the fridge). On a lightly floured surface, roll half the dough out to a thickness slightly less than 5 mm (¼ in). If the top of the dough is sticky, sprinkle it lightly with additional flour. Using a 4-5 cm (1½ – 2 in) heart-shaped cutter, cut cookies from the rolled-out dough. Gather the scraps together, re-roll them, and cut additional cookies. As cookies are cut, place them, about 1 cm (½ in) apart, on the prepared baking sheets.

Bake in the pre-heated oven for 8 to 10 minutes, until the cookies look dry. Cool for about 2 minutes, then transfer to racks to cool completely before filling. Continue rolling, cutting and baking until all the dough is used.

To assemble and decorate the cookies, place half of them in a single layer on a large baking sheet. Spread each one with about ½ teaspoon of jam, then top with a second cookie. When all the cookies have been filled, top each with about ½ teaspoon melted chocolate, spreading the chocolate with the back of a spoon. Sprinkle the chocolate lightly with chopped walnuts. Let the cookies stand for 2 to 3 hours, or until the chocolate is firm, then store them in an airtight container.
If Walnut Cookie Hearts are too sweet for you (or not sweet enough!), you'll find more delicious recipes from "The People's Friend" here.