Writer Of The Week: Moira Gee
---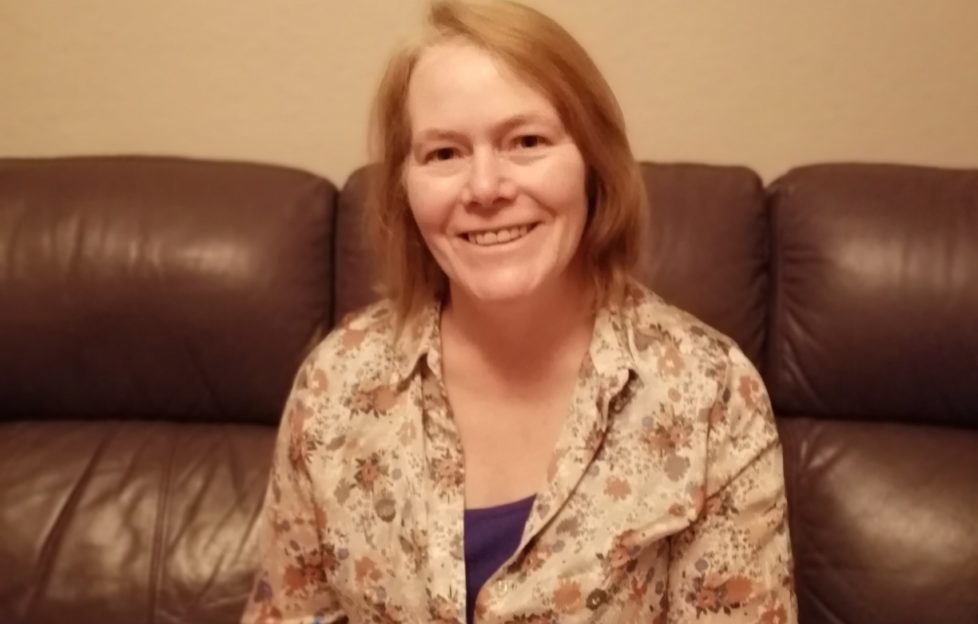 Photograph courtesy of Moira Gee.
Moira Gee is this Monday's Writer Of The Week.
Her story, "An Unexpected Proposal", opens our latest issue.
A great excuse to catch up for a chat!
Tell us where the idea for "An Unexpected Proposal" came from?
I know someone who was very surprised when his girlfriend proposed to him on February 29th.
I just took the idea a little further. It was fun to take a humorous look at the conflicting emotions a man might experience if he suspected that his lady friend was planning to pop the question.
I enjoy writing stories around specific days or dates or places. It always sharpens my focus.
(The couple I mentioned have been happily married for a few years now, by the way).
How long have you been writing fiction?
I remember writing my first story when I was about eight years old. It was about a little girl called Mary, who came from a poor family.
While on a day at the beach, she noticed various mounds of sand and when she dug them up, lo and behold, they were filled with golden coins!
Of course, Mary's family never had any money worries again. (Wouldn't that be nice?)
I had my first story published in "The Sunday Post" back in 1976, when I was fifteen.
Who are your favourite authors?
Ooh, I hate being asked about my favourites of anything — my tastes vary so much according to my mood.
I think I'd have to say Maeve Binchy, Daphne du Maurier, Jojo Moyes, Cecilia Ahern, Joanna Trollope (and Shakespeare . . . do playwrights count?).
What are your writing ambitions?
To have my children's book, "The Sad Little Rainbow", published. I wrote the original version when I was eight or nine, and my artist daughter is working on the illustrations now.
It would be lovely to see it in print after fifty years!
Notebook and pencil or laptop? Kitchen table or study? Blank wall or inspiring view?
Definitely notebook first! My house is full of them. My kids keep buying me big A4 ones with inspiring quotes on the front.
If I work straight onto the laptop, I type too quickly and end up writing rubbish. Writing longhand means that I can think very carefully about every sentence.
The pages of the notebooks are always filled with scores, scribbles, arrows and asterisks, of course, so I could never ask anyone else to type my stories out for me.
But it does mean that by the time I type a story up, I'm happy with it.
As to where: wherever I can find peace. Sometimes I'm in the local library, sometimes on my sofa, sometimes in my car, parked at the beach front.
Being beside water inspires me, and so does the moon.
P.S. What's your top tip for an aspiring Writer Of The Week?
Write whatever comes into your mind, even if you don't feel there's a point or a reason to it. You never know when you might find a home for it.
I started writing poetry quite recently and wrote a sestina about an old lady I met who had Alzheimer's, just because it came to me.
It sat there in one of my notebooks for almost a year until one day I unexpectedly came across a competition calling for poems about a medical condition. It was as if my poem had been waiting for the opportunity.
However, do bear in mind that just because it isn't published, it doesn't mean it isn't valuable.
Just keep writing. Whenever you can. Whatever you can. For you.
For more from our Writer Of The Week series, click the tag below.
To read more great fiction content from the "Friend", click here.
Or you can subscribe to our Fiction newsletter here.