Blueberry and Yoghurt American-style Pancakes
---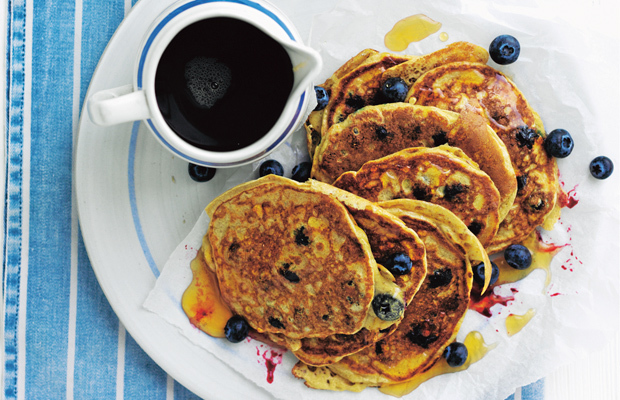 Photograph courtesy of Seasonal Berries.
Ingredients
50 g (2 oz) fine cornmeal
50 g (2 oz) tapioca flour
½ tsp ground cinnamon
1 tsp bicarbonate of soda
200 g (7 oz) low fat natural yoghurt
2 eggs
150 g (5 oz) blueberries
1-2 tbs sunflower oil, for frying
To Serve: A little butter, extra blueberries and maple syrup or runny honey.
Recipe courtesy of Seasonal Berries.
A whole day dedicated to pancakes? We're in!
That's why today, Shrove Tuesday, we've decided to lead with this delicious recipe for the country's favourite flat foodstuff.
What do you eat with your pancakes?
We've decided on blueberries this time around. Obviously, everyone knows fresh fruit is good for you — but did you know that blueberries in particular have a whole host of health benefits?
Method:
Mix the flours, cinnamon and bicarbonate of soda together in a bowl.

Add the yoghurt and eggs and whisk together until smooth, then fold in the blueberries.

Heat a little of the oil in a large non-stick frying-pan, then wipe out the excess with a piece of crumpled kitchen towel.

Drop some large spoonfuls of the thick batter into the pan. Cook for 2 to 3 minutes, until you can see bubbles. The undersides should be tinged brown.

Turn the pancakes over with a palette knife and cook the second side for a minute or two. Take out of the pan and keep hot in a folded napkin.

Oil the pan once more. Cook more pancakes in the same way, until you've used up all the mixture. Lowering the heat slightly if needed.
To serve
Stack the pancakes on to plates, top with a little butter, extra blueberries and a drizzle of maple syrup or honey.
For another brilliant blueberry recipe, check out this blueberry, orange and polenta cake.
There are plenty of recipes for pancakes in our Cookery pages, too!
---
Every week, Cookery Ed Marion makes sure "The People's Friend" keeps our readers enthralled in the kitchen.
So whether you're a budding chef or a culinary master, you should subscribe to the magazine now . . . otherwise you never know the scrumptious food you might be missing out on!
We even offer gifts and discounts for taking out a subscription with us!