Knitting Preview: March 7, 2020 Issue
---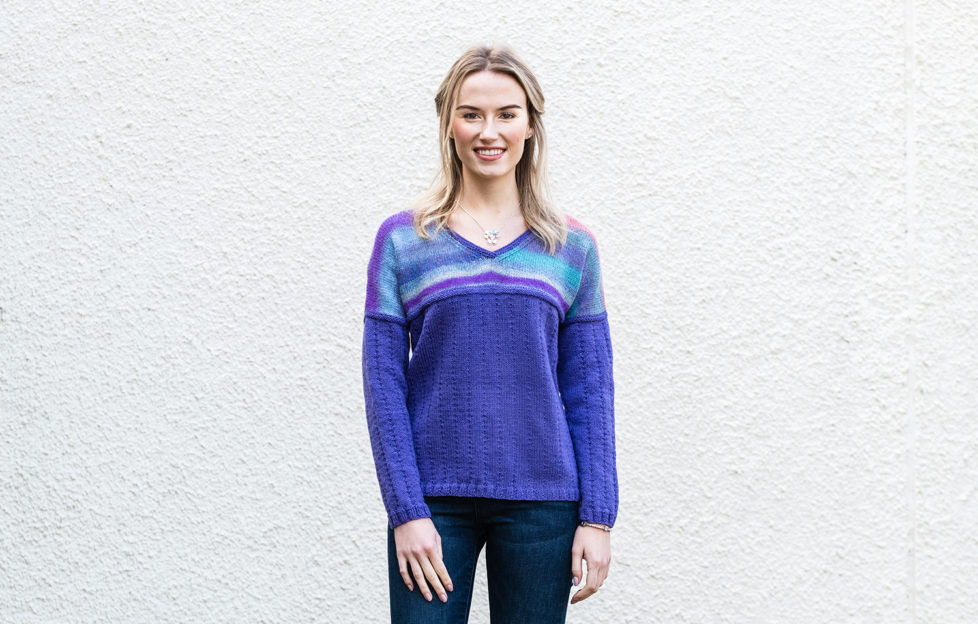 Photograph by Ally Stuart.
We have a bright, fun sweater for you in this week's knitting preview.
Worked in a combination of two yarns, this V-neck sweater comes in six sizes ranging from 76/81 cm (30/32 ins) to 127/132 cm (50/52 ins).
Actual size is approx. 22/17 cm (8½/6½ ins) bigger, making for a comfortable fit that would allow for a t-shirt underneath if you prefer.
There is a very simple textured pattern running up the front, back and sleeves until the yoke. Note that the pattern on the back is repeated until work measures approximately 36 cm, ending after a 2nd or 4th row.
The sleeves are worked from the top down so that you decrease rather than increase as you work.
The main yarn is King Cole Big Value DK in Violet (4038). We've used King Cole Sprite DK in Gozo (1913) for the colourful yoke.
If you are not a fan of purple, there are other shades in both yarns which work well as a pairing and you can view them at www.kingcole.com.
Whatever shade you pick, this inexpensive top will work up nice and quickly.
Knitting preview piqued your interest? Click here for more great craft content.
Or you can subscribe to "The People's Friend" here. That way you'll never miss another one of our great patterns and projects!