The Curtain Comes Up On World Theatre Day
---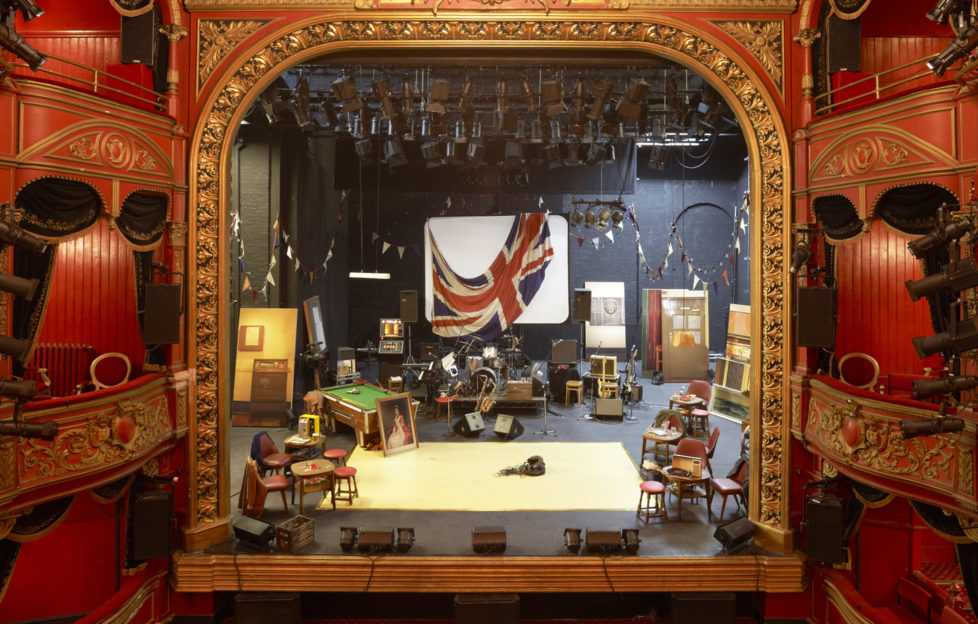 Photograph courtesy of the Theatre Royal.
Today is World Theatre Day — a celebration of the importance of this valuable art form, its history and heritage.
To mark the occasion, we've reproduced the below article by Gillian Thornton, which first appeared in "The People's Friend" in August 2014.
Her visit to the Theatre Royal certainly seems to have made an impression!
---
Built in 1884, the Theatre Royal stands today on the fringe of the capital's newest urban development, a short walk from the London 2012 Olympic Park.
Stepping inside, however, I'm immediately transported back to the Edwardian era through the rich, red décor, mood lighting and geometric tiled floor.
The walls are lined with photos, and one in particular portrays an iconic moment from the theatre's chequered history.
The property was semi-derelict when Joan Littlewood and her company arrived in 1953. When they weren't rehearsing, they were to be found cleaning, painting and restoring.
Joan and partner Gerry Raffles were eventually able to buy the building in 1967, only to be faced soon afterwards with the prospect of losing it when the area was earmarked for redevelopment.
A story that hadn't been heard before
Together they fought tirelessly to keep the bulldozers away and a famous black-and-white photograph shows Joan sitting outside the theatre on a pile of rubble. They won through in the end, and today the theatre is protected with a Grade II listing.
But Joan's determined stand is the stuff of theatre legend and was commemorated with a sculpture. A replica of that historic photograph, it's the work of Philip Jackson, who created the wonderful Bomber Command Memorial Statue in Green Park.
Other photos in the Theatre Royal foyer show scenes from its first ground-breaking production of "Oh! What A Lovely War".
"When 'Oh! What A Lovely War' was first staged here, it told a story that hadn't been heard before," Artistic Director Kerry Michaels tells me. "The story of the ordinary men in the trenches. But with scenes of horror interspersed with jolly songs."
"And the way Joan staged it was ground-breaking, too. Today, her techniques are no longer new. But the show still packs a punch and the idea of the working-class cannon fodder still comes across very clearly."
The play also still causes controversy. Former Education Secretary Michael Gove commented on its left-wing stance — a remark that would have delighted the outspoken Miss Littlewood, who died in 2002.
Described as a "left-wing visionary" in one obituary, she was always seeking to push boundaries and challenge perceptions.
After training at RADA, Joan first founded her Theatre Workshop in 1945.
They touring the north of England with shows for working-class audiences before moving to Stratford. But with no financial subsidies to keep them afloat, Joan's enthusiastic and innovative company faced a constant struggle, relying heavily on income from their shows transferring to the West End.
Change perceptions through drama
Eventually Joan turned to children's theatre, bringing all kinds of new performance ideas to young people.
But many well-known performers such as Barbara Windsor, Avis Bunnage and Harry H. Corbett were members of her company during its early years and starred not only in "Oh! What A Lovely War" but also in one of Joan's other famous productions, "A Taste Of Honey".
"Joan was very specific about what you could and couldn't do with her shows," Kerry reveals. "In 'Oh! What A Lovely War', for instance, there were to be no poppies, no crosses, no war poems. And definitely no bugles sounding 'The Last Post'.
"But she would never tell anyone how to do something – she wanted you to stage your own piece of work. I think she would be pleased to see us reminding people that war is never black and white."
Joan once remarked that she built her life "on a rock of change" and the Theatre Workshop still reaches out to change perceptions through drama.
Run and run
Secondary schools and colleges all over the country were invited to create a short dramatic response to "Oh! What A Lovely War". Several were subsequently invited to perform at the Theatre Royal on topics ranging from propaganda to the role of popular entertainment.
I discover more as I tour backstage with Associate Producer Karen Fisher, who tells me about a dream of Joan's to create a Fun Palace where youngsters could create anything they wanted to do with culture and science, a place where anything would be possible.
I'm thrilled just to stand in the wings and peep out round the curtains.
A group of talented teenagers is rehearsing a monologue show on this historic stage. And they sound very promising.
Joan, one feels, would be thrilled.
She always intended the Theatre Royal Stratford East to be a "people's theatre" and when she died, ownership of the theatre passed to the Theatre Workshop Trust.
Now, thanks to the enthusiastic team behind the scenes, Joan Littlewood's legacy looks set to run and run.
---
For more information on World Theatre Day, click here.