Little Egg Easter Chicks To Keep You Entertained
---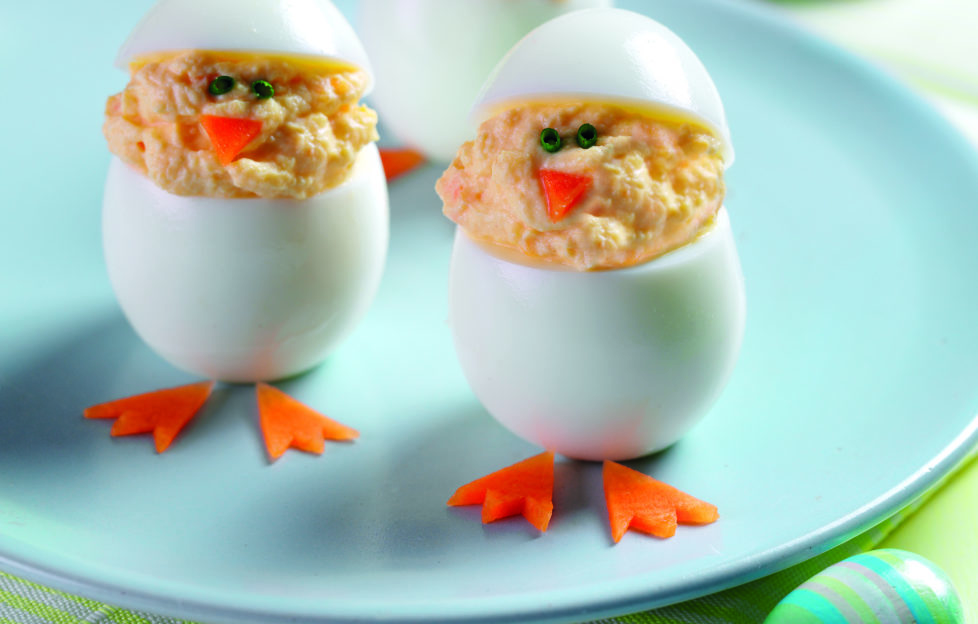 Image courtesy of British Lion Eggs.
These Easter chicks are a very seasonal — and easy! — way to keep the children/grandchildren amused during the current lockdown.
Actually, if you're like us you've probably been looking for ways to keep yourself amused, too . . .
Method:
Place eggs into a pan of warm water. Bring to the boil and cook for 7 minutes.

Drain and cool in a large bowl of cold water. Once cooled, peel and shell.

Using a sharp knife, take a very thin slice off the bottom of each egg so they sit flat on a plate, then slice off the top third of each egg and carefully scoop out the yolks into a small bowl.

Using a fork, mix the yolks with the yoghurt and mustard until smooth. Use a teaspoon to spoon the mixture back into the egg whites.

Add the egg "lids", then add a beak made from a small triangle of carrot, and eyes made from snipped chives or green peppercorns.

For the feet, cut the sliced carrot into triangles, then cut out smaller triangles from the rounded edge to make claws, and arrange these under the base of the egg.
Who says you'll run out of things to do in the kitchen?
Egg Easter Chicks not for you? Click here for more delicious recipes.
If you can't get to the shops just now for your "Friend", subscribe now by clicking here. This will mean your "Friend" will come straight to your doorstep! 
You can also take out a digital subscription, meaning your issue will come straight to your computer, tablet or phone! And it's great value for money. Click here for more details.