Shoulder of Lamb With Rosemary Scented Shallots
---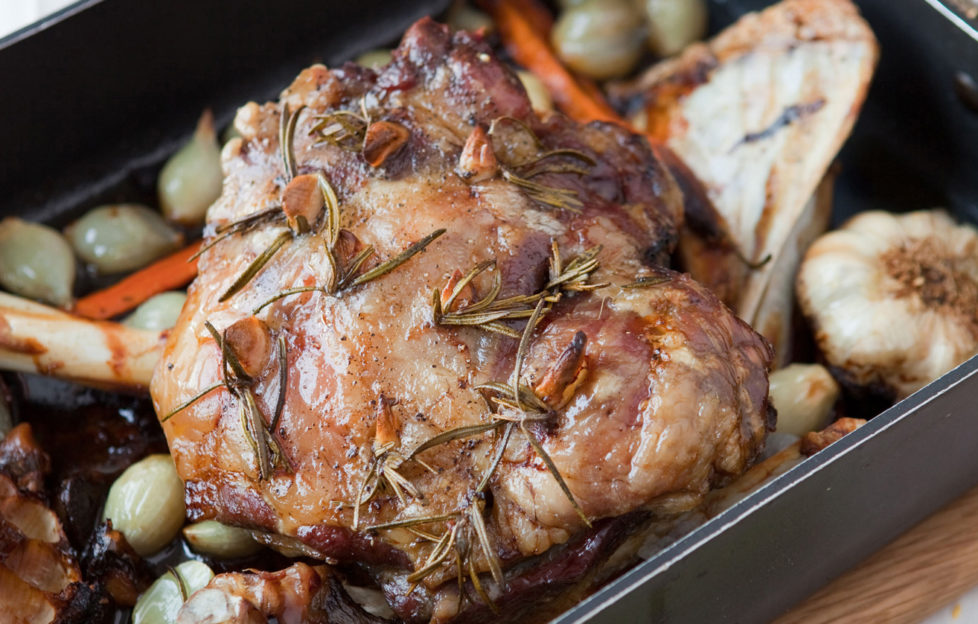 Image courtesy of UK Shallots.
Ingredients
1 boneless shoulder of lamb
1 head of garlic
½ bunch of rosemary
2 peeled carrots, cut in half
50 ml (2 fl oz) olive oil
Salt and freshly ground black pepper, to taste
400 g (14 oz) whole round peeled shallots
20 g (¾ oz) tomato purée
Pinch of flour
1 lt (1¾ pt) of chicken stock
To Serve: green vegetables; roast potatoes.
Recipe courtesy of UK Shallots.
Easter is the perfect time to add some lamb to your diet.
And we have the perfect recipe: Slow-cooked Shoulder of Lamb With Rosemary Scented Shallots.
Make sure the family don't fill up on chocolate eggs — they'll need some room for this one!
Method:
Go over the joint and remove any large fat deposits or unsightly skin. Stab the joint several times with the tip of a small sharp knife and insert one ½ clove of garlic per incision. Stick in a little sprig of rosemary per incision.

Place the shoulder on the lamb bones with the carrots. Drizzle over the olive oil and season.

Place in the oven at 160 deg. C., 320 deg. F., Gas Mark 3 for 4 to 5 hours, covering with a sheet of foil for the first 3 hours. With one hour to go, add the peeled shallots and remove the foil.

When the lamb and the shallots are cooked, remove everything from the tray and allow to rest somewhere warm.

Add the tomato purée and flour to the cooking tray and place back on the stove to cook slightly. Then add the stock and bring to the boil. Strain through a very fine sieve into a clean pan and bring back to the boil. Season if required.

Carve the lamb on to a warm serving dish, place the shallots around and put the gravy into a sauce boat. Serve with green vegetables and potatoes.
For more delicious recipes from "The People's Friend", click here.
If you can't get to the shops just now for your "Friend", subscribe now by clicking here. This will mean your "Friend" will come straight to your doorstep! 
You can also take out a digital subscription, meaning your issue will come straight to your computer, tablet or phone! And it's great value for money. Click here for more details.