Beautiful Blueberry Hot Cross Buns
---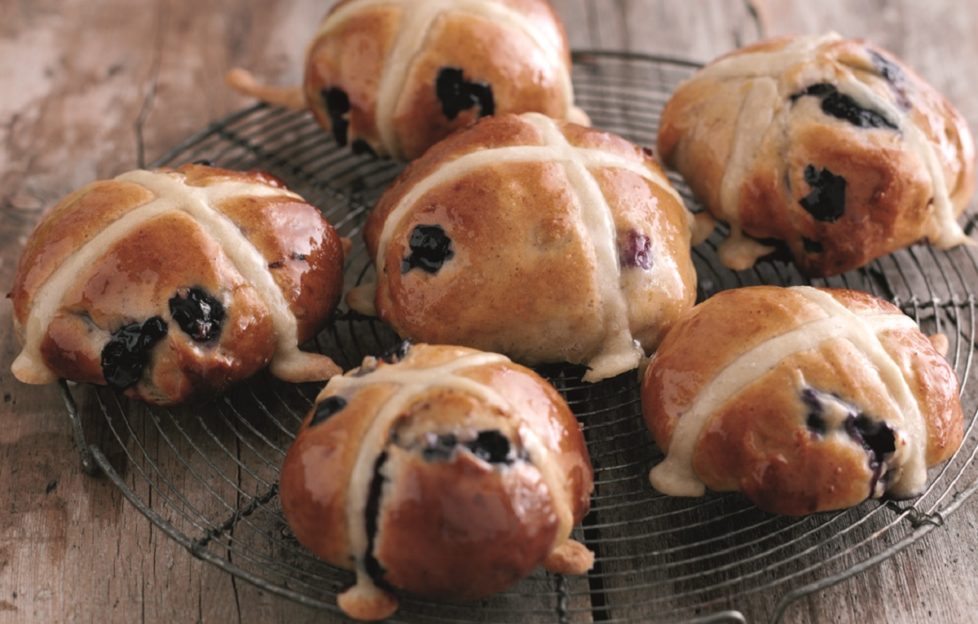 Image courtesy of Love Fresh Berries.
Ingredients
500 g (1 lb 2oz) strong plain white bread flour, plus extra for dusting
1 tsp salt
1½ tsp ground mixed spice
50 g (1¾ oz) caster sugar
1 orange, grated rind only
1 lemon, grated rind only
50 g (1¾ oz) butter, diced
2 tsp easy-blend dried yeast
200-250 ml (7-8 fl oz) milk
1 egg, beaten
150 g (5½ oz) blueberries
For the Crosses:
100 g (3½ oz) strong plain white bread flour
For the Glaze:
2 tbs caster sugar
4 tbs milk
Recipe courtesy of Love Fresh Berries.
You can't really enjoy an Easter weekend without hot cross buns!
That's why we're bringing you this Blueberry Hot Cross Bun recipe today . . . a special way to use up your leftovers tomorrow. So remember to check back!
Method:
Mix the flour, salt, spice, sugar and fruit rinds together in a large bowl. Add the butter and rub in with fingertips until it resembles fine crumbs, then stir in the yeast.

Heat the milk in a small saucepan or in the microwave until it feels warm to your little finger. Add the egg to the flour mixture then gradually mix in enough of the warm milk to make a soft but not sticky dough.

Tip dough out on to the work surface then knead for 10 minutes, dusting the work surface lightly with flour as needed.

Put the dough back into the bowl, cover with a teacloth and put in a warm place for 45 to 60 minutes until the dough has doubled in size.

Knead the dough once more then gently knead in the blueberries. Cut the dough into 12 pieces, shape into round buns and put slightly spaced apart on a large greased baking sheet. Cover loosely with a large piece of oiled clingfilm and leave to rise in a warm place for 20 to




30 minutes.

Sift the flour for the crosses into a bowl and mix in just enough water to make a smooth pipeable mixture. Spoon into a disposable plastic or greaseproof paper piping bag, snip off the tip and pipe crosses over the buns.

Bake at 190 deg. C., 375 deg. F., Gas Mark 5 for 15 minutes until well risen and golden.

Meanwhile make the glaze by dissolving the sugar in the milk in a small saucepan then boiling for 1 minute.

Brush over the hot cross buns as soon as they come out of the oven. Leave to cool then serve split and buttered.
For more delicious recipes from "The People's Friend", click here.
If you can't get to the shops just now for your "Friend", subscribe now by clicking here. This will mean your "Friend" will come straight to your doorstep! 
You can also take out a digital subscription, meaning your issue will come straight to your computer, tablet or phone! And it's great value for money. Click here for more details.