Fiction Sneak Peek: May 2, 2020 Issue
---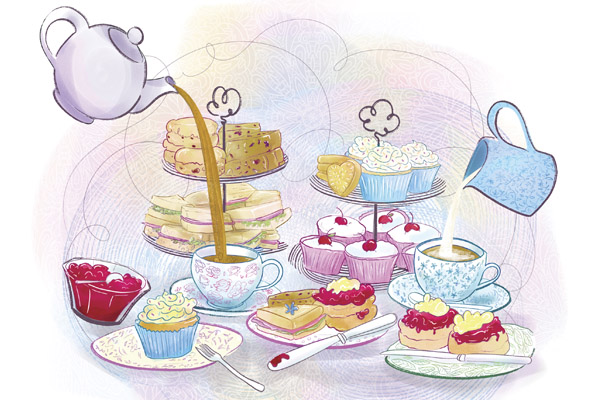 Illustration by Manon Gandiolle.
Looking forward to your "Friend" arriving tomorrow? Here's a quick sneak peek at what's inside . . .
Set in the 1930s, "The Lady In The Fox Fur", by Teresa Ashby is a thrilling "whodunnit" featuring Constable Fleur Gray.
A magistrate is discovered, murdered, and it appears his wife has bruising round her neck. Is there a connection? With lovely 30s-style artwork by Jim Dewar.
In "Smile Stones", by Lydia Jones, Megan finds a bright yellow stone in a beach shelter, with a smiley face on it! Every day, a new one appears — but who is leaving them? Sailesh Thakrar has illustrated this one beautifully for us.
Nine-year-old Emily is due to dance around the maypole. But mum, Maud, can't afford the gym tunic she'll need. Find out what happens in "The Maypole Dance", by our Writer Of The Week, Patricia Belford. Set in the 1920s, it has a charming illustration by Manon Gandiolle.
It's Harriet's birthday, and the one thing she definitely does not want is a surprise party. So what surprise does her husband, Cameron, have in store? And will she approve?
Find out in "Give Me A Clue", by Christine Bryant, with a lovely illustration by Gerard Fay.
In "A Cake And A Chat", by Jane Tulloch, it's amazing the life-changing ideas pop up over a cup of tea. With a "sweet" illustration by Manon Gandiolle.
Newly-single Jade is establishing a new garden. Will romance blossom in the garden centre? Find out in "Garden Rescue" by Gwen Rollison. With a "blooming" marvellous (sorry!) illustration by Kirk Houston.
Should you worry too much about growing old gracefully? And is it ever too late for love? Val Bonsall's "A Little Of What You Fancy" is illustrated by Kirk Houston.
Serials
It's Part Six of "Birds Of A Feather" by Paula Williams. Jess and Ben's relationship is under strain. Why all the interest in Sam Weston? With bright artwork by David Young.
"The Tanner's Daughter" reaches its dramatic conclusion this week. Just when all seems lost, should Jane accept a lifeline? Written by Pamela Kavanagh, this serial's been brought to life with exceptional artwork by Mandy Dixon.
Series
Can you believe we're already halfway through "Living It Up", by Jessma Carter? This week, Abigail's planning a trip to the charity shop…
And in "Riverside", by Glenda Young, it's competition time at the Old Engine Room!
Sneak peek leave you wanting more? Our new issue is on sale soon. Enjoy!
Remember you can subscribe to the "Friend" today, and you'll never miss another issue. Plus, if you're worried about potential delivery issues, you can take out a digital subscription and download every issue straight to your phone, tablet or home computer.