Fiction Sneak Peek: May 16, 2020 Issue
---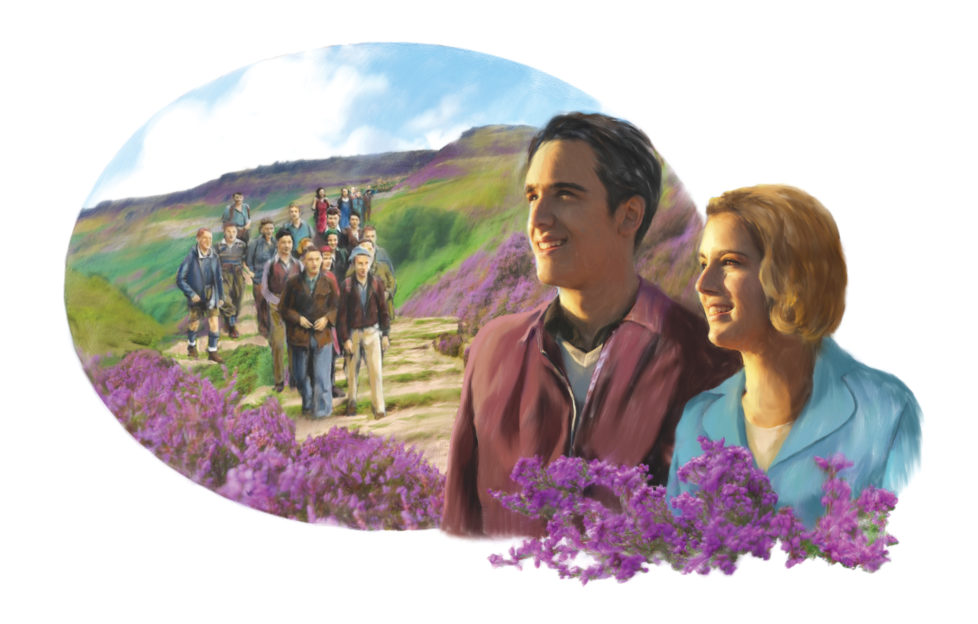 Illustration by Pat Gregory.
Welcome to this week's fiction sneak peek!
Our fun opening story is "The Mystery Man". Everyone in the village is still fuming at Chloe for turning down her boyfriend's proposal so publicly. Then a mystery man comes on the scene . . . Written by Teresa Ashby, this story has a sweet illustration by Sarah Holliday.
In "Whistle On The Wind", by Laura Tapper, Hitler is casting a long shadow over Europe. Can Edith protect her brother, Harry, now that a man from his regiment is on the doorstep? With a wonderful period illustration by Jim Dewar.
Judith has retired from her medical career, which has been largely spent in war zones. Then a friend comes calling with an offer – can she refuse? "When The Boat Comes In" by Sharon Gosling has a lovely illustration by our own Manon Gandiolle.
"Mass Trespass", by Keith Havers, takes us back to 1932. Landowners are barring access to the moors for the general public – what can be done? Pat Gregory's lovely illustration (above) is the perfect complement – and Pat's our Illustrator of the Week.
"My Perfect Setting" is a lovely family story by Jacqui Cooper, with a wonderfully-set illustration by Martin Baines. High-flier, Grace, takes a trip to Mexico, in accommodation that's modest by her standards. It turns out to be a decision with long-lasting repercussions.
In "A Wedding Date At The Cat Café", by Suzanne Ross Jones, Maxine is matchmaking, and Clare asks Billy out.
Was moving the family to the Welsh coast a mistake? Find out in our final short story of this week, "As Long As We're Together", by Jane Bettany.
Series
In "Living It Up", Rachel's daughter is on the doorstep and she's not happy…but three babysitters soon put the spring back in her step! Catch up with our series by Jessma Carter.
And Ruby's putting her big plan into action in our weekly soap by Glenda Young, "Riverside".
Serials
It's Part Two of our serial, "While The City Sleeps", by Lynn Love. It's three months since Joan's disappearance. With no news, Ruth decides to go and see Ruth's brother, Ronnie – even though she's been forbidden to contact him…our exciting serial is illustrated by Helen Welsh.
"Birds Of A Feather" reaches its compelling conclusion this week! Part Eight sees Jess spotting Private Investigator, Harry Manvers, at Billington Grange. He's shaking hands with Brigstocke – but why? Our serial by Paula Williams has featured lovely illustrations by David Young.
Sneak peek leave you wanting more? Our new issue is on sale soon. Enjoy!
Remember you can subscribe to the "Friend" today, and you'll never miss another issue. Plus, if you're worried about potential delivery issues, you can take out a digital subscription and download every issue straight to your phone, tablet or home computer.