Fiction Sneak Peek: June 13, 2020 Issue
---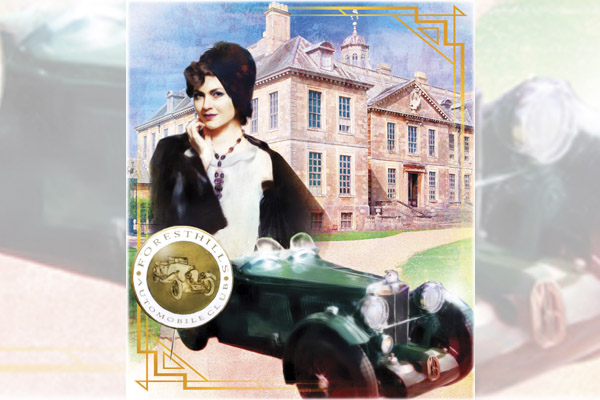 Illustration by Philip Crabb.
Here's a sneak peek at the fiction we've lined up for you in this week's issue!
Seven short stories
Our opening story this week is the intriguing "Murder At Lavingsly Manor", set in the roaring twenties. A corpse has been discovered in the ice house — the only clue is a lapel pin from the local automobile club. Can the culprit be caught? Find out in this sparkling short story by Katie Ashmore. With a fabulous 1920s illustration (above) by Philip Crabb.
"Pebble For Your Thoughts" is the story of Harry, who just can't understand why his daughter would wish to give up a secure teaching career to open a gift shop. Until a walk on the beach leads to a meeting with another artist . . . This gentle short story is by Andrea Wotherspoon, with an illustration by Sarah Holliday.
In "Key To My Heart", by Natalie Kleinman, keys hold the key to memories . . .
Laura Tapper's "What A Drip!" is great fun. There's a leak in Naomi's bathroom — but only on a Friday. Why could that be? Thanks to Mandy Dixon for the accompanying illustration.
Patricia Clark's "Dress For Success" is set around the activities of The Rational Dress Society, which began in the 1880s. We hope you like the complementary illustration by Sarah Holliday.
Melina and Tanino are approaching their Emerald Wedding Anniversary. Can Tanino come up with a suitable gift? "The Greatest Gift" is by Stefania Hartley; the Melina and Tanino illustrations are by Jim Dewar.
In "All Change At The Cat Café", by Suzanne Ross Jones, it's time for Sabrina to move on. But who will Maxine find to take her place?
Series
In Glenda Young's "Riverside", Sam and Claire announce their plans to family and friends . . .
And in "Living It Up", Rachel decides to pursue a new friendship. Our super series is by Jessma Carter.
Serials
We have a new four-part serial starting today, set in Regency times. The arrival of the eligible — and rich — Hugh Chesham is causing quite a stir in the neighbourhood! Find out more in "The Ladies Of Kesteven", by H. Johnson Mack. With lovely illustrations by Sailesh Thakrar.
In the penultimate instalment of "Return To Tillakos", Jade needs to find out what happened to her father all those years ago. Our intriguing dual-period serial by Lydia Jones is set in 2002 and 1978, and has super illustrations by Gerard Fay.
Sneak peek leave you wanting more? Our new issue is on sale soon. Enjoy!
Remember you can subscribe to the "Friend" today, and you'll never miss another issue. Plus, if you're worried about potential delivery issues, you can take out a digital subscription and download every issue straight to your phone, tablet or home computer.