Jersey Royals, Goats' Cheese And Asparagus Flan
---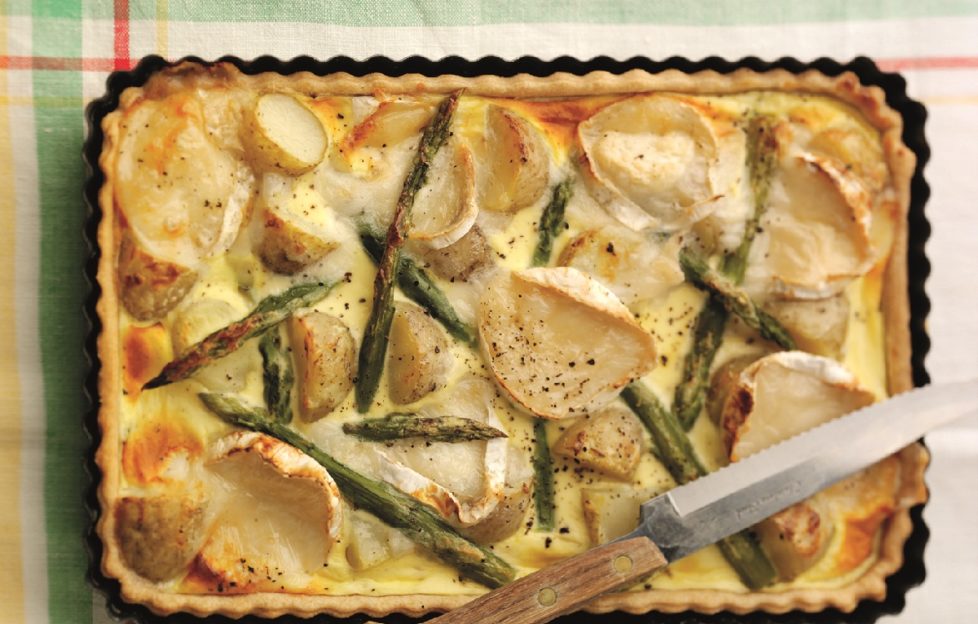 Image courtesy of Jersey Royals.
Ingredients
450 g (1 lb) Jersey Royals, scrubbed and cut into chunks
Salt and freshly ground black pepper, to taste
250 g (9 oz) asparagus
A little flour, for dusting
1 x 500 g pack ready-to-use shortcrust pastry
3 eggs
1 x 300 ml pot crème fraîche
2 x 100 g packs Somerset goats' cheese (with rind), sliced
To Garnish: fresh herbs.
Recipe courtesy of Jersey Royals.
Enjoy this Jersey Royals, Goats' Cheese And Asparagus flan in no time at all, thanks to this quick and easy recipe.
Method:
Cook the Jersey Royals in lightly salted boiling water until just tender. Drain well, then cool. At the same time, cook the asparagus in a small amount of boiling water for 3 to 4 minutes. Drain, then rinse with cold water to cool quickly.

Pre-heat oven to 200 deg. C, 400 deg. F., Gas Mark 6.

Roll out the pastry on a lightly floured surface and use it to line a 20 x 30 cm (8 x 12 in) oblong tart tin. Line with a piece of foil or greaseproof paper and baking beans and bake blind for




15 minutes.

Take the flan from the oven and remove the foil or paper and baking beans. Reduce the oven temperature to 180 deg. C.,




350 deg. F., Gas Mark 4.

Arrange the Jersey Royals over the base of the flan with the asparagus.

Beat together the eggs and crème fraîche, then season. Pour into the flan case and arrange the sliced goats' cheese on top. Bake in the pre-heated oven for 30 to 35 minutes, until set. Serve warm, garnished with fresh herbs.
For more delicious recipes from "The People's Friend", click here.
If you can't get to the shops just now for your "Friend", subscribe now by clicking here. This will mean your "Friend" will come straight to your doorstep! 
You can also take out a digital subscription, meaning your issue will come straight to your computer, tablet or phone! And it's great value for money. Click here for more details.