Fiction Team's Abbie And Her Bookcase
---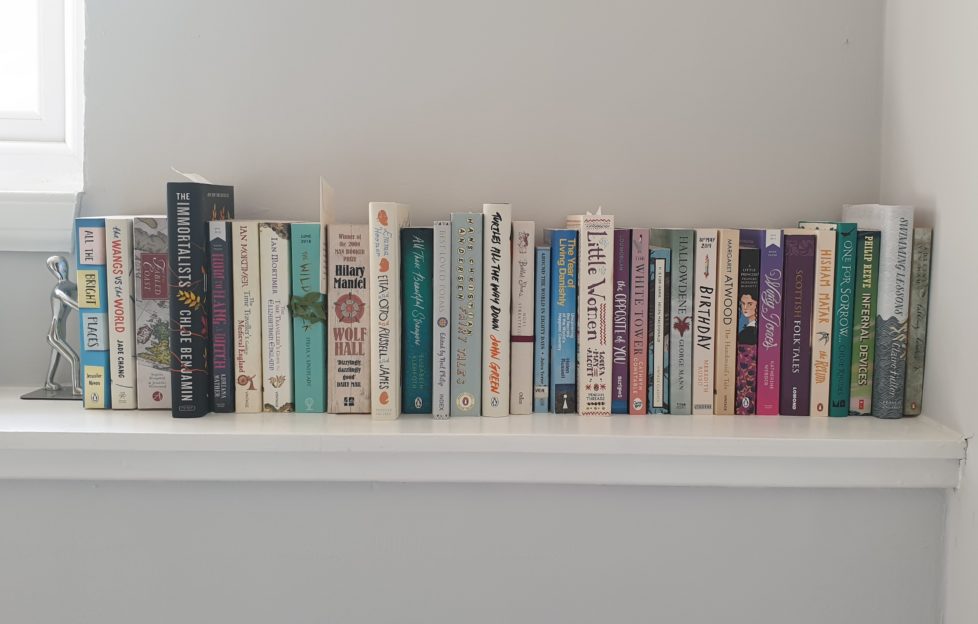 Photograph by Abbie Phillips.
My "bookcase" is unconventional — it's more of a bookshelf that goes along the wall of our landing.
But I was inspired by Tracey and Alan to write a blog about it anyway.
After all, I love seeing all my books as I come up the stairs. They have such a calming effect on me.
Sharing is caring
There is a real bookcase in our living room though, filled with my partner's fantasy and science fiction books.
I recently dipped into his collection, and have just finished reading the first book in the "Gone" series.
It's about a town where everybody over the age of 15 vanishes and the teens and children left behind develop powers.
A great book for the older teens in your life!
Eclectic Mix
My shelf is less organised than my partner's, and there are all sorts of genres mixed up together.
As well as fiction, I have some poetry books, including my favourite — "Ariel" by Sylvia Plath.
I also have "Best Loved Poems" edited by Neil Philip, which I've had since I was 11 years old.
The illustration on the front, by Isabelle Brent, depicts my mum's favourite poem, "The Owl and the Pussy-Cat" by Edward Lear.
I don't dip into non-fiction often, but every now and then I will.
"H is for Hawk" by Helen Macdonald is a brilliant memoir about Macdonald's grief after losing her father.
I read it a few years ago and loved it, so when I found this edition in a charity shop, I had to have it.
I'm just noticing that I have quite a few children's books here like "Ballet Shoes" by Noel Streatfeild.
I danced from a young age, so I loved reading about Pauline, Petrova and Posy — especially Posy, as she chased her dream of becoming a ballerina!
If I had to name a favourite genre it would probably be children's fiction.
Digital library
And of course, I have a bookcase made up of pixels on my Kindle as well.
I usually use it to download books for the DC Thomson book club — our latest pick is "Stoner" by John Edward Williams.
So, what about your bookcase? Organised or messy? Streamlined or eclectic?
For more from the "Friend" team, read our blog here.