Men's Health Week: Shedloads Of Fun
---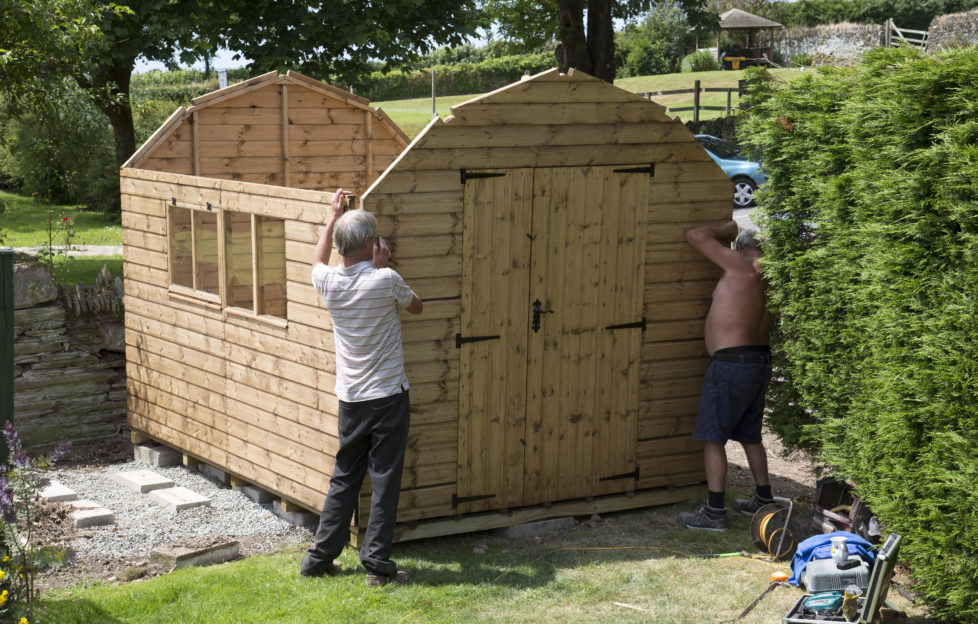 Shutterstock.
Men's Health Week runs from June 15-21.
Every year, the campaign raises awareness of health issues that disproportionately affect men. It aims to encourage men to become more aware of possible health problems, and to help them find the courage to do something about it.
We've decided to mark the occasion by revisiting this article by Simon Whaley, which we first published in 2018. In it, he discovers how sheds are helping older men look after their mental health in retirement.
---
"We've got very happy wives!" Willie Gormley says as he leans against the workbench.
Laughter quickly fills the workshop.
"Yes, it gets us out from under their feet," John agrees, standing nearby. There's more laughter, and already I can see the benefit of Men's Sheds.
I've only been here ten minutes and already I'm hooked.
Combat social isolation and depression
Men's Sheds is an Australian concept. It's designed to help combat social isolation and depression amongst men by bringing them together in a familiar environment.
The first shed was established the first shed in the Australian town of Tongala, Victoria, in July 1998. Now, 20 years later, there are over 439 Men's Sheds in the UK alone, with a total of 10,536 members, or "shedders".
Shropshire's Newport Men's Shed has been meeting for about four years now, and they're lucky enough to have two different "sheds".
Shedder Sam explains how this came about.
"It started in 2014. We tried to set up a shed in Newport, but that fell through. Then we were visiting the Ironbridge Coracle Regatta, and we heard about this place, the Green Wood Centre, run by the Small Woods Association.
They offered us the use of this amazing workshop."
Looking around, I'm in awe of the variety of equipment the shedders can use here. There are workbenches, bandsaws, belt sanders, drills and much more.
In addition to meeting on Wednesdays here at Ironbridge's Green Wood Centre, the local Wrekin Housing Trust offered them the use of Hall Barn in Madeley, Telford, where they meet on Tuesdays.
"Hall Barn has a kitchen and toilet," Sam continues, "and we've divided it in two. We've set up a small workshop area in one half, and got settees and chairs in the other half.
"We also have a garden, which is about 100 feet by 30 feet, which we're hoping to refurbish."
There's always biscuits available
The benefit of this two-venue shed is that they can offer more activities. Here at the Green Wood Centre, Gerwyn Lewis often teaches them woodworking skills and techniques, which they can then practise themselves.
This morning, he's showing them how to make an oval-shaped wooden bandbox.
At Hall Barn they do other activities, such as painting, model-making, drawing, or simply having a chat over a cup of tea and a biscuit.
"There's always biscuits available." Sam grins. "It's a great deal. We pay five pounds a week and that gives us both this place and Hall Barn and as much tea, coffee and biscuits as you can eat!"
Some men find retirement a challenge, as they struggle to adapt to their new way of life. Without a job, life can feel without purpose.
Men's Sheds aims to change all that.
Not only can they learn new skills and share knowledge, but they can also work on their own projects, too.
John is currently restoring a rocking chair.
"What I've got here is something I brought back from Peru in the 1970s," he says. "It's been stuck up in the loft for a few years. So my wife suggested I might like to restore it.
"The leather seat and back have a Peruvian Inca design. I'm just doing some basic repairs, and adding a bit of wood-stain. I tested a bit yesterday and it seems to be coming up OK."
Public-spirited
The Men's Shedders are public-spirited, too.
"We've done several projects for the community," Willie explains. "For example, for the Severn Gorge Trust we made some wheelchair-friendly picnic benches, which are in the picnic area by the Iron Bridge. And we built a couple of noticeboards for the cemetery in Much Wenlock."
They're also making the most of the facilities here at Green Wood to help improve their Hall Barn venue, too.
"We're making a planter for the walled garden," Willie says, "but one of the chaps who comes to Hall Barn has a lung problem, which means he can't come here because of all the sawdust.
"So I'm cutting up the wood here, and I'll take it to Hall Barn so he can put it together and make the planter there."
And that sums up the ethos behind Men's Shed — community spirit. They're a band of brothers getting together regularly to share skills, knowledge, help out the wider community, and themselves.
As a result, they reduce isolation and loneliness, which can have just as devastating an effect on men's health as conditions like diabetes and depression.
The future's bright, too.
"We've got about twenty- two on our books at the moment," Willie says, "but we hope to expand and perhaps open up for more than two days a week."
Another bout of laughter explodes across the room, as someone shares another joke.
It's clearly a shedload of fun here.
But just don't tell their wives!
---
For more information on Men's Health Week, click here.
For more fascinating features from "The People's Friend", click here.