Writer Of The Week: Frances Powell
---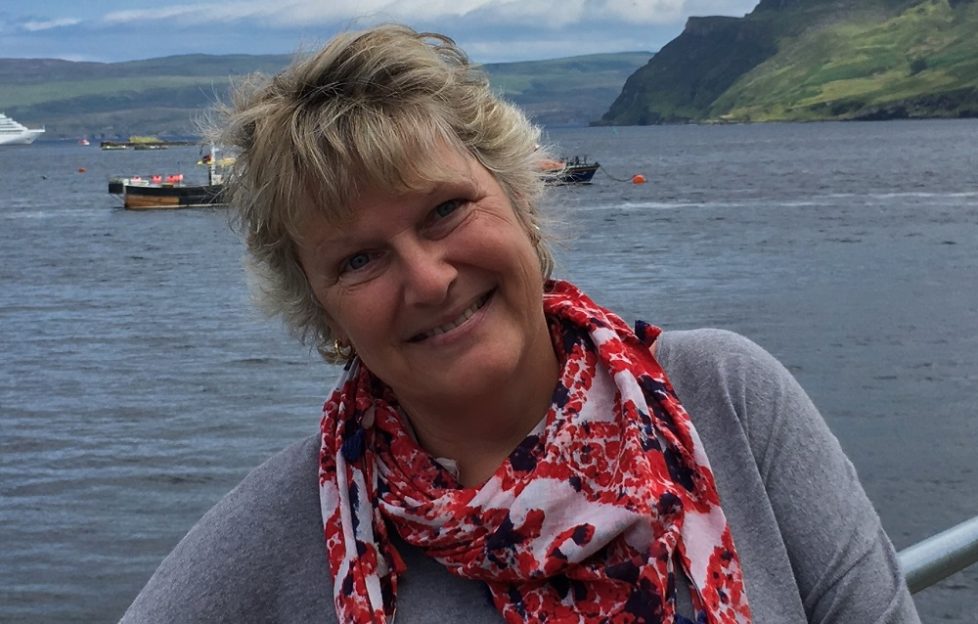 Picture courtesy of Frances Powell.
Writer Of The Week Frances Powell's first "Friend" story, "An Elephant Under The Flyover", appears in this week's issue.
Tell us where the idea for "An Elephant Under The Flyover" came from?
I lived in Asia for many years, and on a trip to Bangkok I actually spotted an elephant living under a flyover. It was a brief glimpse from a moving taxi, but the image made quite an impression.
It was so incongruous to see such an animal, living in the city, underneath criss-crossing roads. Thankfully, the Thai government has made it illegal for elephants to be kept like this, but it's a difficult piece of legislation to enforce.
Many years later, as part of a writing activity at a writers' workshop, I was given a soapstone elephant as a stimulus for a story.
I was instantly taken back to that Bangkok taxi and the elephant under the flyover.
I knew that's what I had to write about.
How long have you been writing fiction?
I've been writing stories, on and off, all my life.
I was constantly reading as a child, and loved making up stories of my own.
When I was teaching in Hong Kong, I would write for my students, as it was often difficult to find appropriate examples of different text types.
However, it wasn't until I decided to leave the classroom that I was able to write more seriously. I took a Masters in Creative Writing, which was a fantastic experience as it set me off on my path to become a writer.
Who are your favourite authors?
Reading is one of my favourite pastimes — anything from literary fiction to beach reads.
My favourite author is Ian McEwan, especially his novel "On Chesil Beach". I love how the reader knows from the start things won't pan out well for Edward and Florence, but they seem completely oblivious.
Relationships and the misunderstandings that can lead them to unravel are themes I find really interesting. So Maggie O'Farrell, Adele Parks and Joanna Trollope are among my favourites as well.
I also enjoy historical fiction. I am in awe of writers such as Sarah Waters, Phillipa Gregory and Tracy Chevalier. The period detail they include really makes their writing feel authentic.
I'm reading "The Mirror and the Light" by Hilary Mantel at the moment and thoroughly enjoying her use of language.
What are your writing ambitions?
I imagine I'm no different from most writers. My ambition is to see more of my work in print!
I'm a third of the way through my second novel, although I'm taking a break from it at the moment to let my thoughts and ideas percolate a bit more.
In the meantime, I'm working on revisions to my first novel, written under my real name, Andrea Brittan, and plan on sending it out to agents shortly.
I've also got a number of short stories on the go, so hopefully you'll see more from me in future editions of "The People's Friend".
Notepad and pencil or laptop? Kitchen table or study? Blank wall or inspiring view?
I'm definitely someone who works better when there's something going on around me.
I often work at the kitchen table or in a coffee shop (when I can), but generally I write in my study.
I have a desk underneath the window, so I can see who's coming and going in the village. As for a laptop or notebook — I use both!
My notebooks are for jotting down ideas or editing points that I need to go back to, whereas the actual writing gets done on my laptop.
I also use an A3-sized sketchbook for planning and brainstorming ideas. A large sheet of paper seems to make it easier for thoughts to flow.
What's your top tip for an aspiring Writer Of The Week?
I'd urge all aspiring writers to find out as much as possible about the craft of writing.
There are lots of online courses available, many of which are free. Some are offered by county councils through their adult education programmes, others by organisations such as FutureLearn or WEA.
Joining a writing group can also be a good way to develop your skills. But it's best to decide what you want from a group first and choose accordingly.
If you're looking for detailed guidance, then a tutor-led group might be the best option.
If you don't like the idea of a course or joining a group, then look out for Stephen King's memoir, "On Writing".
It's full of useful advice and is very readable.
For more from our Writer Of The Week series, click the tag below.