Using Your Ice-Cream Maker: Mango And Orange Frozen Yogurt
---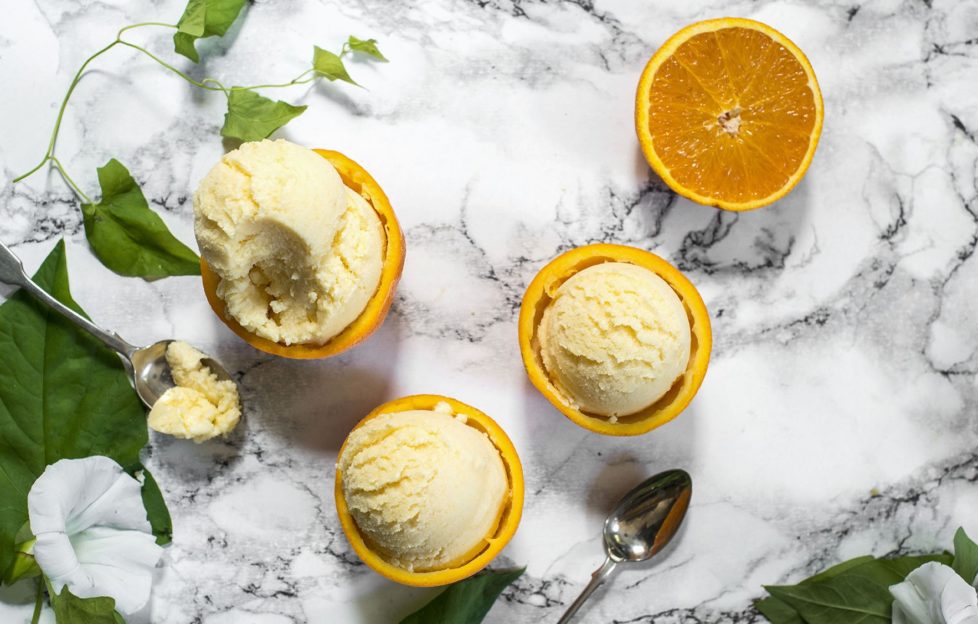 Image courtesy of AO.
Ingredients
1 large mango, around 500 g (1 lb 2 oz)
2 tbs honey
2 medium oranges
400 g (14 oz) plain yogurt
Recipe courtesy of AO.
In this week's issue, our Know How page gives a little guidance on buying an ice-cream maker.
If you're planning to pick one up, why not test it out with this Mango And Orange Frozen Yoghurt recipe?
You will need a food processor, too!
Method:
Freeze the ice-cream maker bowl 24 hours before starting.

Peel the mango and cut it into chunks.

Put the mango and the honey into your food processor and blend to a smooth purée.

Cut the oranges into halves for serving.

Squeeze the juice from the orange halves and add to the purée. Blitz again.

Add the yogurt to the blender and pulse for 2 seconds – just to mix it all up.

Pour the mix into your ice-cream maker and churn according to manufacturer's instructions – usually 20 minutes.

Using a melon baller, clean out the insides of the orange halves.

Wash the orange halves and place them into the freezer.

Once the churning is done, transfer the yogurt mixture to a container and place into your freezer for an hour.

When ready to serve, using the melon baller, put two balls of ice-cream into each orange half and serve immediately.
For more delicious recipes from "The People's Friend", click here.
If you can't get to the shops just now for your "Friend", subscribe now by clicking here. This will mean your "Friend" will come straight to your doorstep! 
You can also take out a digital subscription, meaning your issue will come straight to your computer, tablet or phone! And it's great value for money. Click here for more details.