Fiction Sneak Peek: July 4, 2020 Issue
---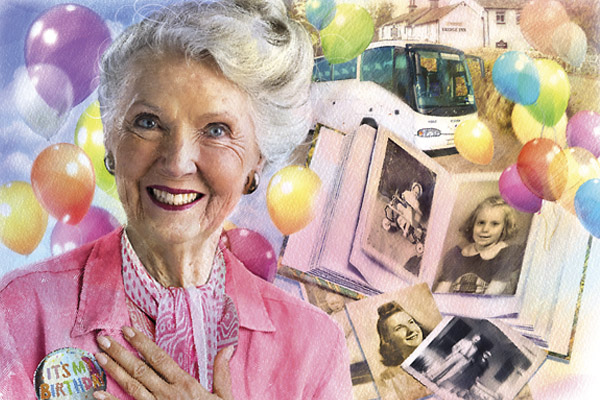 Illustration by Jim Dewar.
Welcome to the Sneak Peek for our July 4 issue!
This week's opening story is set at the beginning of the 1900s. Two staff members who work for a wealthy family meet, fall in love and set up their own business. Can it flourish? All will be revealed in "Completing The Picture" by Julia Douglas, illustrated by Helen Welsh.
What do you buy a well-loved aunt for her birthday? Sssh . . . it's a surprise! Find out exactly what the family has planned in our next story by Patsy Collins, "Aunt Arabella's Birthday". With a suitably celebratory illustration by Jim Dewar (above).
10-year-old Lola has "lost" her end-of-term report. Or has she? Find out in our next story, "Making The Grade", by Eirin Thompson.
When a gust of wind blows Gran's Italian umbrella away in the wind, Gemma fears it's gone for good. Then, by a stroke of good luck, Gemma's old school friend Gavin finds it. Find out what happens next in "The Italian Umbrella", by Annie Harris. Illustrated by Kirk Houston.
Katy works in Signore Girardi's cheese shop. New customer, Marco, is becoming a regular, but he hides a surprising secret! By Laura Tapper, this story has a fun illustration by our own Manon Gandiolle.
In "The Last Voyage", Brenda is at her grandson's wedding, so happy that he's tying the knot. So why is she having a "moment"? A moving and poignant story by Katie Ashmore.
Our final story for this week is "Meet The Neighbours". Martha and her new neighbour, Mark, get off on the wrong foot. Can they set things right? Alyson Hilbourne's story is illustrated by Andre Leonard.
Series
This week, Flora makes a surprise announcement in Jessma Carter's "Living It Up".
And in Glenda Young's "Riverside", Ruby is up to her match-making tricks!
Serials
Heather would prefer a quiet wedding, but her mum, Cheryl, has other plans, in "Happy Is The Bride". This is part two of Laura Tapper's serial, illustrated by Ruth Blair.
Eleanor's sense of duty tells her she must leave the family in the final part of "The Ladies Of Kesteven". Our Regency serial has been written by H. Johnson-Mack and illustrated by Sailesh Thakrar.
Sneak peek leave you wanting more? Our new issue is on sale soon. Enjoy!
Remember you can subscribe to the "Friend" today, and you'll never miss another issue. Plus, if you're worried about potential delivery issues, you can take out a digital subscription and download every issue straight to your phone, tablet or home computer.