Fiction Sneak Peek: July 11, 2020 Issue
---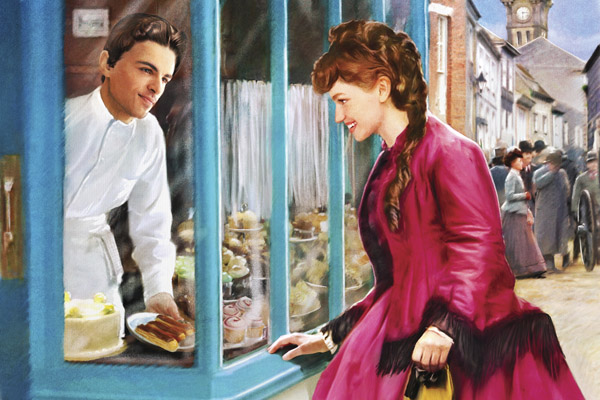 Illustration by David Young.
Looking forward to a good read when your "Friend" arrives this week? Here's a sneak peek at the reading you have in store!
Short stories
Kitty-Lydia Dye has set our opener, "Through The Shop Window", in 1885. It introduces us to chalk-and-cheese sisters, Alice and Lettie. Destined for marriage, Lettie wants her life to take a different direction. David Young illustrates (above).
In "Mum's Worry List", Daisy's mum is planning the family holiday. Eirin Thompson's summertime story is perfectly complemented by an unusual illustration from Hannah Agosta.
Jim and Kate are planning a trip to Gretna, and not for the first time. Find out what's going on in "Escape To Gretna Green" by Sharon Haston.
Milly has never forgotten a special place from her past, and never thought she'd find it again. "Where Magic Happens", Susan Sarapuk's thoughtful short story, is illustrated by Kirk Houston.
In Stefania Hartley's "Music From Above" we meet Filomena, who has spent the majority of her adult life looking for "the one" — "better alone than in bad company", she thinks. Will a falling piano help or hinder matters? With a sweet illustration from Sarah Holliday.
In Val Bonsall's humorous "At Her Age!", Karen has given her mum strict instructions that granddaughter, Ellie, is not to be allowed a  holiday romance under any circumstances . . . Warmly illustrated by Mandy Murray.
There's "Late-Night Drama At The Cat Café"! With Angus away visiting his mother, could now be the worst time for Maxine to go into labour? By Suzanne Ross Jones.
Series
A visitor brings some new ideas in Jessma Carter's "Living It Up".
In Glenda Young's "Riverside", Anna's thinking of asking Mike out on a date. And the day of the vote on the future of the riverside has arrived . . .
Serials
We have a brand new serial this week! "Chasing The Tide" is by Pamela Ormondroyd, and illustrated by Kirk Houston. Set in 1937, it's features Rhona and Bryn, estranged by a family feud, but kindred spirits nonetheless.
In Part Three of Laura Tapper's serial, "Happy Is The Bride", Heather has a new idea which could be the very thing that saves Ardleton Hall. But can she get everyone on board? Ruth Blair illustrates this engaging family serial.
If this sneak peek has left you wanting more, don't worry! Our new issue is in shops soon.
Did you know that subscribers receive their issues early? Click here for more information on subscribing to the "Friend" today. You'll never have to worry about missing another issue again!
Plus, if you're worried about potential delivery issues, we have a great digital subscription available. This way, you can download every issue straight to your phone, tablet or home computer.