Writing Prompt Story Starter: Thistle
---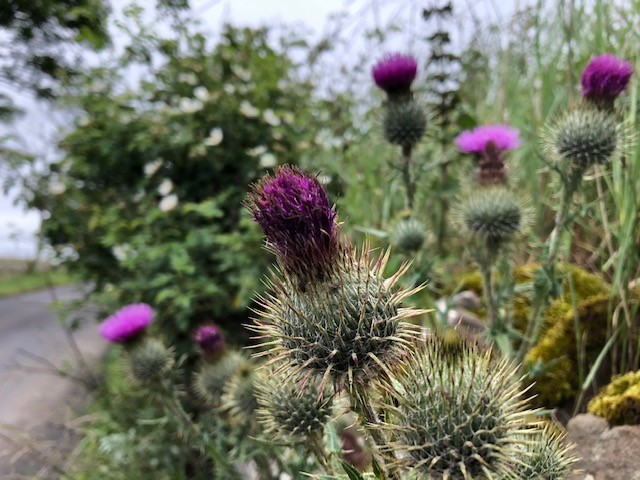 Photograph by Shirley Blair.
It's a Scottish story starter this week!
One of the nice things about working on the "Friend" is that as well as being colleagues, we're friends.
It was nice chatting to previous Fiction Ed Shirley this week.
One of the plus points to come out of lockdown is being able to keep in contact via screens, on WhatsApp, or Zoom. Not quite the same as seeing each other in person, but still great! Shirley says hi, and she hopes you're all enjoying your writing.
She also sent me this image — a thistle.
I had the thistle in my mind for this week's Story Starter after seeing some on a walk in lovely Fife. We'd planned a break there at the beginning of July, and lockdown restrictions on self-contained self-catering accommodation were eased in Scotland just in time for us to go.
The thistle
We were lucky with the weather, and took a walk one day from The Square in Kingsbarns down to the beach.  
Adjacent to Kingsbarns Golf Links, the scenery is just lovely. Summertime was in bloom — with lots of wild flowers and thistles popping up en route.
The thistle is the national flower of Scotland, like England's rose, the daffodil of Wales, and Ireland's shamrock.
You'll see it on our rugby and football team strips. It even makes an appearance on our police uniforms and our currency. And on the emblem of some Scottish Army regiments.
There are many varieties of thistle, and it's been our national emblem since the reign of Alexander III (1249-1286).
Legend says that an army of King Haakon of Norway landed on Scottish shores under cover of darkness, and the soldiers removed their footwear to approach more stealthily.
When one of the Norsemen stood on a thistle, hidden in the darkness, he cried out in pain — alerting the Scots, who went on to win the ensuing battle.
Unexpected twists of fate
The Most Ancient and Most Noble Order Of The Thistle is the highest honour in Scotland, bestowed on only 16 people by Her Majesty The Queen.
Could the thistle help with your writing this week?
Prickly. Weeds. Sharp.
Emblems. Symbols. National pride. Currency.
Honours. Legends. Scotland.
Invading forces. Battles won. Unexpected twists of fate.
In a happy twist of fate, when we were on the beach, we stumbled unexpectedly upon The Cheesy Toast Shack.
I can thoroughly recommend the Hawaiian toastie!
Looking for another story starter? Click here to browse through previous weeks.