Enjoy These "Berrilicious" Oat Pancakes
---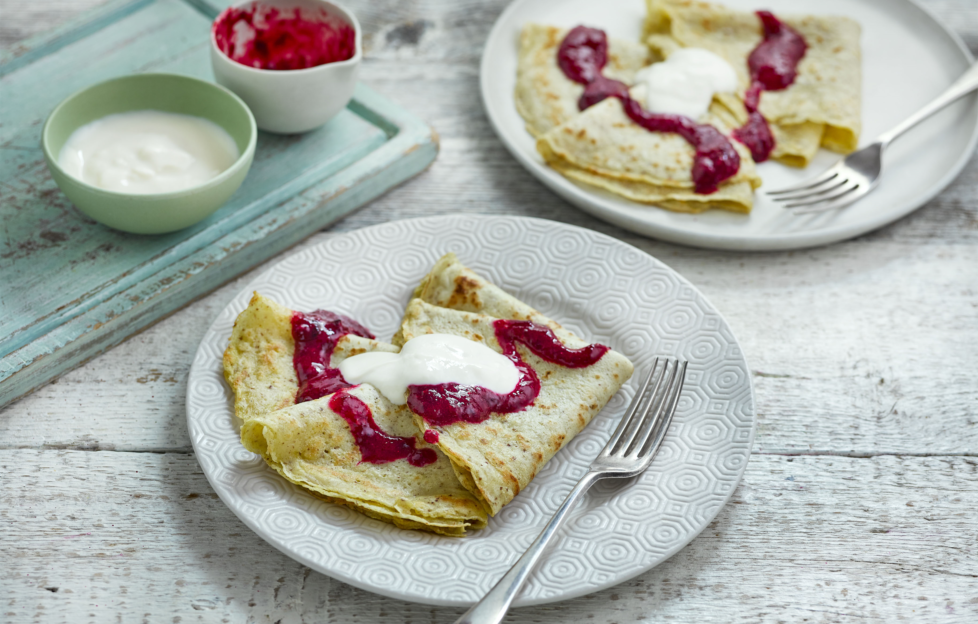 Image courtesy of Alpro.
Ingredients
1 tbs ground flaxseed
140 g (5 oz) plain flour
½ tsp salt
270 ml (9½ fl oz) Alpro Oat Unsweetened drink
250 g (9 oz) mixed frozen berries
1 tbs maple syrup
1 tbs vegan butter
To Serve: Alpro Plain Unsweetened Big Pot.
Recipe and image courtesy of Alpro.
There's one sure-fire way to shake up your breakfast routine, and that's with some "berrilicious" pancakes!
Not only are these fun and tasty, they're also suitable for vegans.
Why not have a go at this recipe and start the day off right!
Method:
Place the ground flaxseed in a small bowl with 3 tablespoons of hot water and whisk. Put to one side for 5 minutes to gell together.
Whisk together the flour, salt, gelled flaxseed and Alpro Oat Unsweetened until perfectly smooth.
Rest the batter for 30 minutes. When you come to use the batter you may need to add a splash more Alpro Oat Unsweetened to loosen a little until you have a good consistency.
Add the frozen berries to a medium sized saucepan and heat through until hot and thawed. Add in the maple syrup and blitz with a stick blender until smooth.
Heat a little of the vegan butter in a non-stick pancake pan over a medium heat. When the pan is hot add in a ladleful of the batter, swirling to coat the pan and cook for 2 minutes or until the pancake can be loosened and flipped to cook the other side for 30 seconds. Continue with the remaining batter.
Serve the pancake with a drizzle of the warmed berry sauce and a dollop of Alpro Plain Unsweetened Big Pot.
This recipe makes 4 large pancakes.
Click here for more great recipes from "The People's Friend".
If you can't get to the shops just now for your "Friend", subscribe now by clicking here. It means your magazine will come straight to your door every week — all you have to do is put the kettle on!
You can also take out a digital subscription, meaning your issue will come straight to your computer, tablet or phone! And it's great value for money. Click here for more details.