Book Review: "Aria" By Nazanine Hozar
---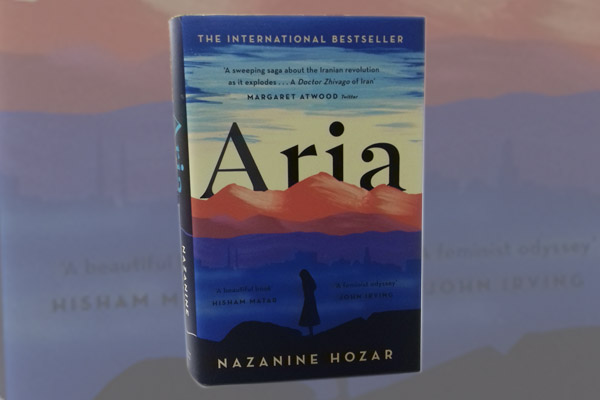 Photograph by Lucy Crichton.
Set in the Iranian capital, Tehran, Nazanine Hozar's "Aria" begins in 1953, and closes in the aftermath of the Iranian Revolution of 1979.
The story begins one night as a baby is born and then abandoned.
Behrouz, a kindly driver, finds the baby and names her Aria —  for the "little tales, cries in the night . . . all the world's pains, and all the world's loves".
Behrouz entrusts Aria's care to his wife, Zahra. Sadly she proves to be abusive — even locking the little girl outside.
The only light in the darkness at this point is the kindness of Behrouz and of Kamran, a neighbour who leaves bracelets for Aria to find. After Zahra neglects the child to the point of cruelty, a new home is found for her.
From here on in, Fereshteh brings Aria up, sending her to school and encouraging her to visit the home of Mehri, a less fortunate soul with a young family.
Independent, strong, and spirited
The book is split into four sections — one for each of Aria's mother figures, Zahra, Fereshteh and Mehri, and one for Aria as she herself embraces motherhood.
It's an epic story. It's full of human drama, played out against a tumultuous background of political turmoil.
Hozar draws each character with such empathy. Like gentle, motherless Behrouz, singing in secret as a child and playing pretend with dolls . . . all hidden from his father, who pushes him into marriage.
Furious Zahra, whose rage seems undimmed with the passing of the years. Mysterious Mehri, aloof somehow, and detached.
Aria herself. Independent, strong, and spirited.
It's through the women's stories that the bigger picture unfolds. Set against the wonderfully ancient, vibrant city of Tehran, this is a story about love, and its absence. And how, when everything is changing, it's most clear that the most important things remain constant. Love, and family.
"Aria" is author Nazanine Hozar's first novel.
I bought my copy in lockdown for £12.59 from The Guardian Bookshop, and am happy to recommend their service.
For more book reviews from the team, click here.