"A Bit Of Peace And Quiet"
---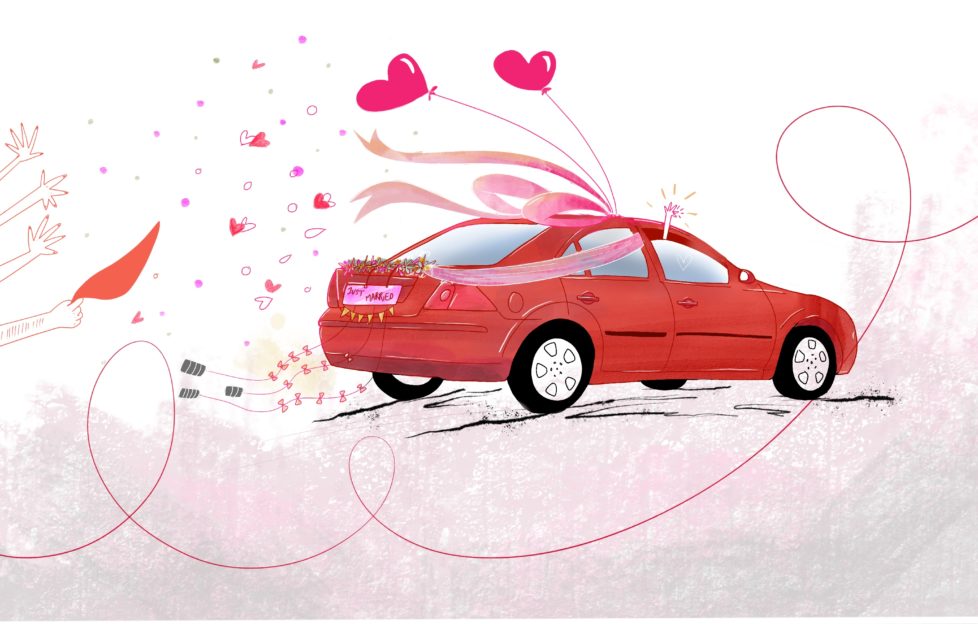 Illustration by Manon Gandiolle.
Alexandra Blue wrote "A Bit Of Peace And Quiet" for "The People's Friend" in 1999.
It feels like a modern story, but it's strange to think that it was more than 20 years ago!
We hope you enjoy.
---
Ninety five per cent of the female population would probably disagree with me, but sometimes it's not easy being a man!
Sure, it's great when the kids are small and you can escape to work in the morning when they're bawling their heads off. It's great on a Saturday when you simply have to play cricket, thereby avoiding shopping excursions or window cleaning.
It's even pretty good when you only have daughters because, naturally, when they have a health or boyfriend problem, it's their mother they turn to.
But sometimes, like now, when I've just escorted the fourth and last daughter down the aisle, and the house is strangely quiet, it's not easy being a man.
"Come and give me a cuddle," I said, finding my bereft wife slumped wearily beside the kitchen table.
Susan glared mutinously at me from beneath her tangled hair. It was hard to believe that yesterday, on our daughter's wedding day, she had looked like a young Joan Collins.
"Oh, Rod — a cuddle won't make it better." She sniffed.
"But it'll help." I gave her a hug but she was so listless in my arms, I quickly returned her to her seat. "Shall we go out for a meal?"
"I'm not hungry.'
Funnily enough, neither was l.
"How about we start tidying up?"
The kitchen was like a flower-cum-baker's shop. There were bouquets which had arrived by the van-load the previous day from a host of friends and relatives; wedding cake, sweet pastries and sandwiches left over from the wedding breakfast.
For the next couple of hours we tidied the house, dusted and vacuumed. Susan even managed to hang our daughter's wedding dress in the wardrobe without collapsing into floods of tears.
Then we sat down, one on either side of the fire, and looked at each other.
"We're like Darby and Joan," I said, which probably wasn't very tactful given the circumstances.
Susan started to cry . . .
---
---
Take a look below at our Manon creating this week's fantastic illustration:
---
---
The following day, I went back to work. It was a great feeling sawing wood and nailing sheets of hardboard to walls. My colleagues in the building trade had obviously forgotten about the wedding because no-one mentioned it.
But when I went into the office, Mrs Jones. the wages clerk, looked up and smiled.
"Hello, Rod. I saw your daughter's wedding photo in the local paper. They're a lovely couple. How's Susan? I expect she's a bit lonely."
I said that she was feeling the loss and made a quick exit.
See what I mean? Susan is feeling a bit lonely. What about me? I was feeling it, too!
But I couldn't sit at the kitchen table and cry. I'm a man. And men are expected to keep on going and pretend they don't mind that sort of thing.
That night, Susan prepared a rather delicious candlelit dinner for two.
"This is great." I was so pleased to note that she'd done her hair and was back to looking like Joan Collins, I opened a bottle of wine.
"Do you remember the old days when we tried to do this on Friday nights? I don't think we ever got beyond the starter before we were interrupted by one of the kids."
Susan laughed. The sound was like music to my ears.
"I suppose having a grown-up family does have its compensations," she said wistfully.
The following evening, Susan attended her line dancing class. When I came home from work, a boxed lasagne sat on the worktop. Placing it in the microwave, I switched on the television and settled down to watch the match.
But it was strange being allowed to watch football when I was used to the women in my house demanding to see "EastEnders" or "Coronation Street".
Not that there had been much television viewing over the last few weeks. During the run-up to the wedding, there was a constant stream of visitors, ranging from flower-girls to bridesmaids, caterers to flower arrangers.
Once, I had complained about the seamstress taking root on the dining-room floor. She was for ever present, shifting around on her knees with her mouth full of pins.
But now I'd have happily traded in a year of football viewing to have the house filled with people again . . .
Trudging upstairs to use the shower, I got ready to shout, "Are you going to be long?" but the bathroom was empty.
How many arguments had we had over the years because of the girls spending longer than their allocated time in the bath? How many times had I entered the smallest room in the house to find tights, dressing gowns, slippers and magazines strewn all over the floor?
Now, I was faced with the depressing sight of two toothbrushes in the glass by the wash-hand basin and a solitary bottle of shampoo. . .
***
"It's very peaceful," Susan said, as we enjoyed yet another candlelit dinner the next evening. "It's hard to believe that for twenty-five years this house was the noisiest in the street. Music blaring, teenagers arguing.­"
"You and me shouting over the noise of their arguments."
We smiled at each other. Then Susan sighed.
"I'm not looking forward to the weekend. It'll be so quiet."
"Why don't we invite the family here for Sunday roast?"
"I'll organise it right away." Susan reached for the telephone.
On Sunday, we were up with the lark. While Susan made meringues and fudge for the grandchildren, I scrubbed carrots and peeled potatoes. We set the dining-room table, polished glasses and folded napkins.
When the family arrived, including the newly-weds who had returned from their honeymoon, Susan took their coats while I poured the drinks.
"Everyone happy?" I asked.
My sons-in-law, deep in football talk, raised their glasses in acknowledgement. My daughters were too busy looking through the latest wedding album to reply.
Meanwhile, Susan rushed around the kitchen, basting beef, preparing prawn cocktails and roaring at the grandchildren to stop eating the home-made fudge before lunch.
While I, well, I just sat in my fireside chair and quietly observed the activity.
After the usual family lunch, where the food was devoured in a very short time and everyone spoke but no-one listened, I took the grandchildren out to the garden for a game of badminton.
The sons-in-law were slumped in the lounge, either snoozing or watching the match on television; the women washed the dishes and discussed last week's wedding.
The badminton didn't last. Someone was hit over the head with a racquet and another was hit in the eye with a shuttlecock. The youngest was tired and wouldn't stop crying while the eldest, who had gone missing, was found upstairs eating the last of the homemade fudge.
"You greedy little monster," my second daughter howled. "If you're sick on the way home then you've only yourself to blame"'
It wouldn't have been a family get-together if a fight hadn't broken out between the two youngest grandchildren.
"That's enough!" I grabbed them by the collars and threatened all manner of things if they didn't learn to keep their fists to themselves.
"Leave them alone, Dad," said daughter number three, who was into psychology. "They have to learn to express themselves."
Susan gave me a weary smile.
The light was fading when we waved them goodbye.
Susan and I stood in the doorway, arms about each other (for support), and watched the last car disappear into the twilight. A wood pigeon cooed sleepily overhead. The sun disappeared behind the line of red-roofed cottages.
"That was a fine day." I sighed, savouring the peace that had descended. "It's good to see our daughters all happily settled with their own families."
"It is," Susan said, moving indoors and looking around the empty hallway.
I held her close, felt her shoulders start to shake as she came to terms, once again, with the knowledge that all her chicks had flown the nest.
"It's OK," I soothed. "Everything is going to be fine."
"I know it is." Susan looked up at me, her eyes bright with merriment.
"I thought you were crying!" I stared at her.
"Tears of joy." She giggled, doing a pirouette before throwing her arms about my neck.
"You know, I never thought I'd say this, but it's lovely having the place to ourselves. I think I'm going to enjoy us being Darby and Joan."
And, as she lifted her face for a kiss, I found myself sharing her sentiments . . .
---
Click here to read more of our fantastic Fiction content.
Click here to delve into our dramatic Daily Serial.