Strawberry And Cream Roulade
---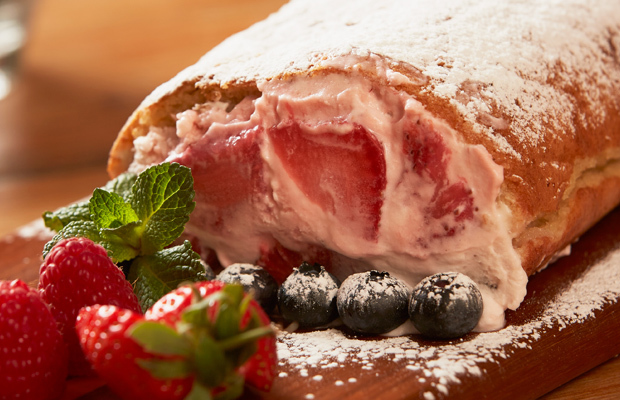 Image courtesy of Linking Environment And Farming (LEAF) and Open Farm Sunday.
If you're looking for the perfect accompaniment to your afternoon cup of tea, this Strawberry And Cream Roulade could be for you!
It's sweet, delicious, and best of all it's easy to make!
Give it a go today.
Method:
Pre-heat the oven to 180 deg. C., 350 deg. F., Gas Mark 4. Grease and line a 32 x 23 cm (13 x 9 in) Swiss roll tin.

Whisk the egg yolks with the sugar until pale and creamy. Stir in the almonds.

In a clean bowl, whisk the egg whites until stiff peaks and fold into the yolk mixture. Pour into the prepared tin and bake for 20 minutes until golden.

Upturn on a sheet of baking parchment, gently roll up and allow to cool.

Meanwhile, place the strawberries, 2 tablespoons of sugar and 1 tablespoon of water in a saucepan and cook gently for 5 minutes. Allow to cool.

Whisk the cream until soft peaks and stir in the strawberry mixture. Unroll the roulade, remove the paper and spread with the strawberry cream and roll up. Sprinkle with icing sugar.
Then all you need to do is just put the kettle on and enjoy!
---
Click here for more great recipes from "The People's Friend". And if it's tea-time treats you're after, we have you covered.
Try these Sweet And Savoury Scones, for example. Or maybe some Sunny Seville Biscuits will do the trick!
If you can't get to the shops just now for your "Friend", subscribe now by clicking here. It means your magazine will come straight to your door every week — all you have to do is put the kettle on!
You can also take out a digital subscription, meaning your issue will come straight to your computer, tablet or phone! And it's great value for money. Click here for more details.